Apparently, she reads in the shower and, "
Yes, the books get wet". This and other random facts about Sway author, Kat Spears!
Kat Spears
1) In all of my books the high school is called Wakefield High School because I hated attending that school so much. Helps me to remember what high school was like for me.
2) I dropped out of Wakefield High School in the 11th grade.
3) I grew up moving every few years.
4) I like to tell people that I dropped out of high school but not that I have a master's degree.
5) My youngest child is named for the 13-year-old main character, Ingrid, in Peter Abraham's Echo Falls Mystery Series. My daughter, like the book character, hates her name because it is unusual, but I love it.
6) I work as a bartender at Lucky Bar in Washington, DC and it is the only job I have ever really loved besides writing.
8) I was born in Sweden but I'm not Swedish.
10) I read in the shower. Yes, the books get wet.
11) Kidnapped by R.L. Stevenson is my favorite book.
12) I don't like to write, but I love to rewrite. I have a very hard time making myself write but can sit and rewrite for hours on end without getting bored.
13) I listen to every genre of music and am unsure how I got through life before Spotify was invented.
14) I watch way too much English Premier League soccer and have even pulled my kids out of school early to take them with me to watch a match at our local Liverpool pub. Which either makes me a bad parent, or the best parent in the world.
About the Author
I am a novelist, bartender, mother of three freeloading kids, non-profit management guru, and, apparently, the only person on the planet who reads in the shower. I am not a role model. My debut YA novel, SWAY, will be released in September 2014 by St. Martin's Press. Follow playlists for all my characters and the soundtracks to my books on Spotify under katbooks. Some of my characters have better taste in music than others, but if you like the character, chances are you will like their playlist.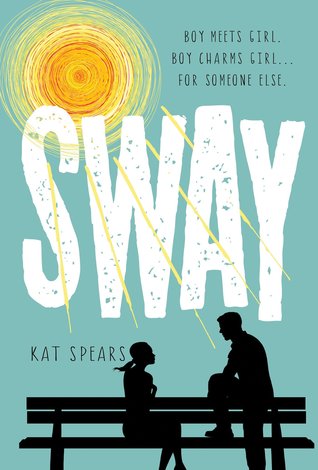 Sway
Published September 16th 2014 by St. Martin's Griffin
Blurb (Goodreads):
In Kat Spears's hilarious and often poignant debut, high school senior Jesse Alderman, or "Sway," as he's known, could sell hell to a bishop. He also specializes in getting things people want---term papers, a date with the prom queen, fake IDs. He has few close friends and he never EVER lets emotions get in the way. For Jesse, life is simply a series of business transactions.
But when Ken Foster, captain of the football team, leading candidate for homecoming king, and all-around jerk, hires Jesse to help him win the heart of the angelic Bridget Smalley, Jesse finds himself feeling all sorts of things. While following Bridget and learning the intimate details of her life, he falls helplessly in love for the very first time. He also finds himself in an accidental friendship with Bridget's belligerent and self-pitying younger brother who has cerebral palsy. Suddenly, Jesse is visiting old folks at a nursing home in order to run into Bridget, and offering his time to help the less fortunate, all the while developing a bond with this young man who idolizes him. Could the tin man really have a heart after all?
A Cyrano de Bergerac story with a modern twist, Sway is told from Jesse's point of view with unapologetic truth and biting humor, his observations about the world around him untempered by empathy or compassion---until Bridget's presence in his life forces him to confront his quiet devastation over a life-changing event a year earlier and maybe, just maybe, feel something again.
GIVEAWAY!
- hardcover of Sway
- open internationally
- contest ends January 6th
- Kat and I are NOT responsible for any lost or damaged package
- each entry will be checked. Daily entries requires different info/links every day. This will be checked as well so be honest!
- winner must respond on email notification within 48 hours or else we will pick another winner
a Rafflecopter giveaway