Find out how did Rachel M. Wilson, author of Don't Touch, celebrated the publishing of her book, her most unforgettable moment with a fan, other 2014 debuts she loved, and more on the interview below!
Rachel M. Wilson
1. What's the best thing that happened after your book was published?
The support from family and friends has been incredible, but I've also been
overwhelmed in the best way by some of the nice things bloggers have done for my book.
A few people have gone above and beyond, hosting giveaways or making gif sets or a
playlist. It's very moving when someone you don't even know takes that kind of interest
and care in your work.
2. How did you celebrate the publishing of your book?
I had a couple of launch parties, one in my hometown of Birmingham, AL, on the day
the book came out, and one the next weekend in Chicago. I was blown away by all the
old friends and teachers (and even some strangers) who made it out. After the event in
Birmingham, I went out to dinner with my family and a big group of family friends. My
parents surprised me with champagne. In Chicago, a couple of friends surprised me with
a salon visit, and everyone who came to the bookstore stayed out for latenight pizza. I
don't think I've ever felt quite so well feted.
3. When is your best time to write?
I prefer to write immediately after waking up, often in bed. If I can't manage that
because I have to be at work too early, I'll often take an afternoon nap and write after
that, almost like it's a whole new day.
4. Do you read reviews of your book?
I definitely read all the trade reviews that my publisher and agent send me, and every
once in a while I read other reviews in batches. I like knowing what's out there, and I
have a pretty thick skin. The ones from people who totally connect to the book thrill me,
and less-than-gushing ones don't usually get me down. Still, I've found that reading
even positive reviews distracts me while I'm working on new writing, so I try not to pay
attention 24-7.
5. What is your best or most unforgettable moment with a fan?
I was at a school visit, and a girl came up to me and the other presenting author. She
had drawn each of us a picture, and she wanted to buy us chocolate bars from her
school's fundraiser to thank us for coming out. She was incredibly sweet and she was
wearing long gloves. I don't know if her wearing them had anything to do with my
book—I was told she had an adventurous fashion sense and that she didn't wear them
everyday—but her generosity and the coincidence of the gloves made it very memorable.
6. Was there any book/s from other debut author of 2014 that you loved?
Oh my gosh, yes! There are so many I haven't yet had the chance to read, but I loved
Robin Herrera's middle grade Hope Is A Ferris Wheel. In YA, Mary Elizabeth Summer's
Trust Me, I'm Lying reminded me of Veronica Mars in the best way, and Joy N.
Hensley's Rites of Passage was this action-packed look at a girl entering a formerly all-
male military academy.
7. Are you interested in writing in a different genre or for a different audience?
I've long been interested in writing middle grade, and I'd love to write more horror—I
have a spooky short out with HarperTeen Impulse called The Game of Boys and
Monsters that's more in that vein. It's my fave genre to read.
8. Share us one embarrassing moment you've had.
Hmm. You know, in thinking about this, I realize I don't tend to embarrass easily. I do a
lot of silly things as an actor by choice that would probably embarrass the average
person. I can be a space cadet, so most of my truly embarrassing moments have involved
a lack of attention/awareness of my surroundings. In college, somebody broke into the
garage of the place where I lived and stole a bunch of bikes. I reported mine stolen only
to realize—several months later—that it had been safely locked up in front of the theater
building that whole time.
9. Favorite color?
Favorite movie?
Favorite ice cream flavor?
Favorite song?
Ultimate celebrity crush (dead or alive)?
Ooh, that's a toughie. You know, I tend to be torn between rugged cowboys and
adorkable wits. If Norman Reedus and Adam Scott had a love child, I'd go for that.
10. What's next for you?
I'm slowly but surely working on a new book—I'd like to serve up something spooky, but
only time will tell.
About the Author
Rachel M. Wilson studied theater at Northwestern University and received her MFA in Writing for Children & Young Adults from Vermont College of Fine Arts. Originally from Alabama, Rachel currently writes, acts, and teaches in Chicago, IL. Don't Touch is her first novel.
Touch and read Rachel's debut novel!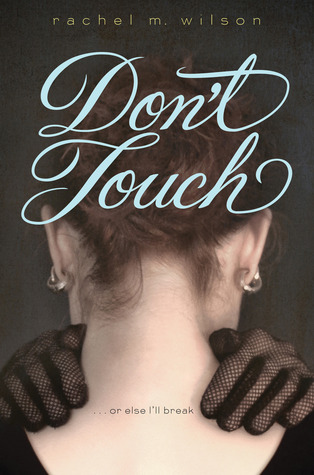 Don't Touch
Published September 2nd 2014 by HarperTeen
Blurb (Goodreads):
Step on a crack, break your mother's back,
Touch another person's skin, and Dad's gone for good . . .

Caddie has a history of magical thinking—of playing games in her head to cope with her surroundings—but it's never been this bad before.

When her parents split up, Don't touch becomes Caddie's mantra. Maybe if she keeps from touching another person's skin, Dad will come home. She knows it doesn't make sense, but her games have never been logical. Soon, despite Alabama's humidity, she's covering every inch of her skin and wearing evening gloves to school.

And that's where things get tricky. Even though Caddie's the new girl, it's hard to pass off her compulsions as artistic quirks. Friends notice things. Her drama class is all about interacting with her scene partners, especially Peter, who's auditioning for the role of Hamlet. Caddie desperately wants to play Ophelia, but if she does, she'll have to touch Peter . . . and kiss him. Part of Caddie would love nothing more than to kiss Peter—but the other part isn't sure she's brave enough to let herself fall.
From rising star Rachel M. Wilson comes a powerful, moving debut novel of the friendship and love that are there for us, if only we'll let them in.

Yesterday: Skylar Dorset, author of The Girl Who Never Was. On Monday: Trisha Leaver, author of Creed. Check out the schedule here.