The second day of Celebrating Debutantes 2014 features the author of one of the magical books I've read this year, Stolen Songbird!
Danielle L. Jensen
1. I have a labradoodle named Elmo, but my mom stole him because I'm out of town so much. I don't think he has any desire to come back!
2. Boots are my favourite footwear. I just bought a pair of Steve Madden military boots, and I live in them.
3. The first person I told I was trying to write a novel was my mom. It was at Christmas, and I'd had about four glasses of wine.
4. I hate cooking, but I love eating.
5. I have a crush on Benedict Cumberbatch.
6. I got a tattoo when I was seventeen with a forged permission note. I got in serious trouble with my parents when they busted me.
7. I adore Britney Spears, and I don't care what anyone has to say about it.
8. I hate Brussel sprouts and shrimp.
9. I enjoy reading celebrity gossip, and my favourite site is laineygossip.com
10. I'm supposed to wear glasses, but only do when I'm driving.
11. The first concert I went to was Green Day.
12. The last concert I went to was Bon Jovi.
13. My favourite sport to watch is hockey.
14. I've owned three horses, and I competed in dressage when I was a teen.
About the Author
Danielle was born and raised in Calgary, Canada. At the insistence of the left side of her brain, she graduated in 2003 from the University of Calgary with a bachelor's degree in finance. But the right side of her brain has ever been mutinous; and in 2010, it sent her back to school to complete an entirely impractical English literature degree at Mount Royal University and to pursue publication. Much to her satisfaction, the right side shows no sign of relinquishing its domination.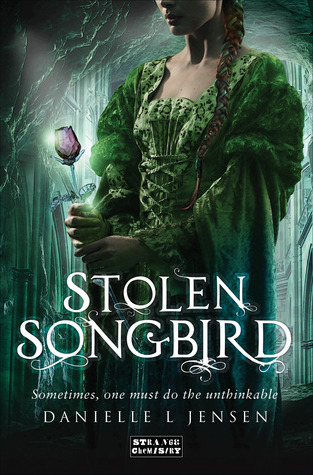 Stolen Songbird
(The Malediction Trilogy #1)
by Danielle L. Jensen
Published April 1st 2014 by Strange Chemistry
Blurb (Goodreads):
For those who have loved Seraphina and Graceling comes another truly fabulous fantasy...
For five centuries, a witch's curse has bound the trolls to their city beneath the ruins of Forsaken Mountain. Time enough for their dark and nefarious magic to fade from human memory and into myth. But a prophesy has been spoken of a union with the power to set the trolls free, and when Cécile de Troyes is kidnapped and taken beneath the mountain, she learns there is far more to the myth of the trolls than she could have imagined.
Cécile has only one thing on her mind after she is brought to Trollus: escape. Only the trolls are clever, fast, and inhumanly strong. She will have to bide her time, wait for the perfect opportunity.
But something unexpected happens while she's waiting – she begins to fall for the enigmatic troll prince to whom she has been bonded and married. She begins to make friends. And she begins to see that she may be the only hope for the half-bloods – part troll, part human creatures who are slaves to the full-blooded trolls. There is a rebellion brewing. And her prince, Tristan, the future king, is its secret leader.
As Cécile becomes involved in the intricate political games of Trollus, she becomes more than a farmer's daughter. She becomes a princess, the hope of a people, and a witch with magic powerful enough to change Trollus forever.
Yesterday: Michelle Krys, author of Hexed. Tomorrow: Melissa Landers, author of Alienated
. Check out the
schedule here
.
GIVEAWAY!
- 2 signed swag packs
- Danielle and I are NOT responsible for any lost or damaged packages
- each entry will be checked. D
aily entries requires different links every day. This will be checked as well so be honest!
- contest ends December 18th
- winners must respond on email notification within 48 hours or else we will pick another winner
a Rafflecopter giveaway