Hey everyone, welcome to the first day of Celebrating Debutantes 2014! Today I'm excited to feature the author of urban fantasy/paranormal novel, Hexed.
Michelle Krys
1. I have an identical twin sister. She's a writer too!
2. I got married in Africa.
3. I'm a NICU nurse. Which means I write books and snuggle tiny babies for a
living—I'm okay with my life choices.
4. But my first job was at a call center though. You know those annoying people
who call you to sell stuff? Me!
5. My favorite food is spaghetti. A close second is nachos with queso and salsa.
Mmmm. And Lays Salt 'N Vinegar chips. (Okay I'll stop now.)
6. I hate the taste of toothepaste. (But no worries, I still brush my teeth!)
8. I'm allergic to exercise.
10. People used to call me Elaine because I get really animated when I'm excited
and hit people. (Also apparently I'm not the greatest dancer . . .)
11. I never tried bacon until I was 25. I couldn't stand the smell of it and thought
it looked gross. (Turns out it's not bad. Who knew?)
12. I've had the same haircut since I was, like, eight. It's kind of sad.
13. I'm a huuuuuge celebrity gossip junkie.
14. My favorite book is Gone with The Wind by Margaret Mitchell.
About the Author
Michelle Krys is the author of HEXED and the upcoming sequel CHARMED. She works
part-time as a NICU nurse and spends her free time writing books for teens. Michelle is
probably not a witch, though she did belong to a witchcraft club in the fifth grade and
"levitated" people in her bedroom, so that may be up for debate. Hexed is her first
novel. Visit her at michellekrys.com or follow @MichelleKrys on Twitter.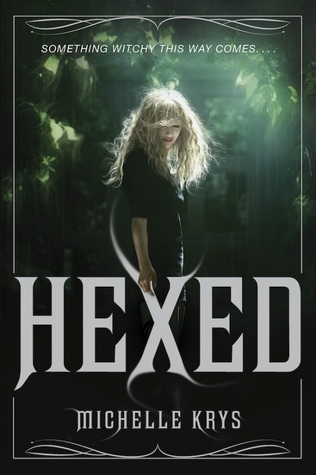 Hexed
Published June 10th 2014 by Delacorte Press
Blurb (Goodreads):
If high school is all about social status, Indigo Blackwood has it made. Sure, her quirky mom owns an occult shop, and a nerd just won't stop trying to be her friend, but Indie is a popular cheerleader with a football-star boyfriend and a social circle powerful enough to ruin everyone at school. Who wouldn't want to be her?
Then a guy dies right before her eyes. And the dusty old family Bible her mom is freakishly possessive of is stolen. But it's when a frustratingly sexy stranger named Bishop enters Indie's world that she learns her destiny involves a lot more than pom-poms and parties. If she doesn't get the Bible back, every witch on the planet will die. And that's seriously bad news for Indie, because according to Bishop, she's a witch too.
Suddenly forced into a centuries-old war between witches and sorcerers, Indie's about to uncover the many dark truths about her life—and a future unlike any she ever imagined on top of the cheer pyramid.
Tomorrow: Danielle L. Jensen, author of Stolen Songbird.
Check out the schedule here.
GIVEAWAY!
- signed hardcover of Hexed
- open internationally
- Michelle and I are NOT responsible for any lost or damaged packages
- each entry will be checked. D
aily entries requires different links every day. This will be checked as well so be honest!
- contest ends December 17th
- winner must respond on email notification within 48 hours or else we will pick another winner