The great things happened to debut author Annie Cosby, and more today!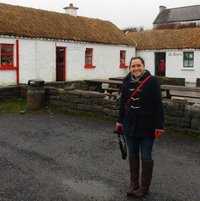 Annie Cosby
1. What's the best thing that happened after your book was published?
My first book, Learning to Swim (Hearts Out of Water #1), was recommended by USA Today! That was an awesome discovery. I was at a bus stop waiting to get the bus home after my first classroom visit as an author, and I wasn't sure it went very well, so I was miserably scrolling through Twitter and came across that! I actually missed my bus because of it! (I did get home in the end, just a little later than planned.)
2. How did you celebrate the publishing of your book?
To be honest, I think my boyfriend and I got takeout. Ha! I live a wild life. But seriously, it was such a grueling process and such a long time coming, I really just heaved a great sigh of relief and stuffed my face with fried food.
3. When is your best time to write?
Really late at night. It wreaks havoc on my sleeping schedule, but I live abroad, so being up during the night is conducive to talking to everyone at home. And it's just so quiet and peaceful, it's when my imagination runs the most wild!
4. Do you read reviews of your book?
In the beginning I did, but after a while, when I found myself being offended by comments even if the person gave it a 4-star review in the end, I realized that A) I was crazy, and B) this was only detrimental to my writing. Now, whenever I have the urge to go check out Goodreads, I pick up a book instead. That's much better for improving my writing.
5. What is your best or most unforgettable moment with a fan?
It would have to be at BEA 2014. I was there as an editor (my day job), but a blogger saw my name tag and recognized me as an author! That was amazing and great fun.
6. Was there any book/s from other debut author of 2014 that you loved?
Tons! Some I adore are Rival Love by Natalie Decker and Call Me Grim by Elizabeth Holloway. Oh, and Of Breakable Things by A. Lynden Rolland! These are all books I got to work on in an editorial capacity, so I've met each of those ladies and taken selfies with a few, so I can guarantee they're all-around spectacular!
7. Are you interested in writing in a different genre or for a different audience?
I don't think so. What I love about YA is that all adults have been through it. Young adults, the so-called "new adults," middle-aged people, older people. We can all relate to YA because we've all been there. It's the gateway to adulthood, and often a very tumultuous one, so I think YA literature resonates in a powerful way with all ages of adults.
8. Share us one embarrassing moment you've had.
When I was 17, I was in the backyard at a house party--and, no, I was not under the influence of anything but Pepsi--and I saw one of my friends inside the house getting ready to leave. Wanting to say bye first, I jumped up and sprinted--and I mean sprinted--inside, only to crash face-first into a glass door. It was straight out of a movie. People inside said the whole house shook. I still haven't lived it down.
9. Favorite color?
Red. Hands down. Always has been--if you'd asked me in preschool, I'd have said red! I have absolutely no reasoning behind it, I just think it's pretty!
Favorite movie?
Ooo, these are getting harder. I would say Pride and Prejudice, because it was my mom's favorite movie so it was on in our house all the time. I'm talking the BBC miniseries, so it was hours of Pride and Prejudice. But I learned to love it!
Favorite ice cream flavor?
Anything with cherries in it! A sundae with cherries and chocolate sauce? I'm sold!
Favorite song?
This changes about once a week! I'm the kind of person that listens to one song on repeat until I (or my friends) can't stand it anymore. Right now, my iTunes is repeating "Say Something" by A Great Big World and Christina Aguilera.
Ultimate celebrity crush (dead or alive)?
I would have to say Chris O'Dowd. I am such a sucker for a funny guy! My boyfriend is Irish, and, considering my love for Chris O'Dowd, it may not have been a coincidence that I sought out the Irish accent in my real-life romance. ;)
10. What's next for you?
I'm going to finish up the Hearts Out of Water series and the Hummingbird Saga so I can get to a baseball YA romance that I've been dying to write. I cannot wait to share that one with you guys!
About the Author
I'm the YA author of the USA Today recommended HEARTS OUT OF WATER series and the brand new HUMMINGBIRD SAGA.
When I'm not writing, I'm usually freelance editing for awesome clients like Anna Katmore (formerly Piper Shelly) and Month9Books/Swoon Romance!
I split my days between my hometown, St. Louis, and my adopted love, Galway, Ireland.
Annie Cosby's USA Today recommended novel!
Learning to Swim
Published March 1st 2013 by Write for You Publishing
Blurb (Goodreads):
When Cora's mother whisks the family away for the summer, Cora must decide between forging her future in the glimmering world of second homes where her parents belong, or getting lost in the bewitching world of the locals and the mystery surrounding a lonely old woman who claims to be a selkie creature-and who probably needs Cora more than anyone else. Through the fantastical tales and anguished stories of the batty Mrs. O'Leary, as well as the company of a particularly gorgeous local boy called Ronan, Cora finds an escape from the reality of planning her life after high school. But will it come at the cost of alienating Cora's mother, who struggles with her own tragic memories? As the summer wanes, it becomes apparent that Ronan just may hold the answer to Mrs. O'Leary's tragic past-and Cora's future.
Yesterday: Kristin Rae, author of Wish You Were Italian. Tomorrow: Bethany Neal, author of My Last Kiss. Check out the schedule here.
GIVEAWAY!
- paperback of Learning to Swim and a paperback of Learning to Live (the first 2 books from my Hearts Out of Water series) + swag (that's THREE awesome stuff to ONE winner!)
- open to US only
- contest ends January 1st
- Annie and I are NOT responsible for any lost or damaged package
- each entry will be checked. Daily entries requires different info/links every day. This will be checked as well so be honest!
- winner must respond on email notification within 48 hours or else we will pick another winner