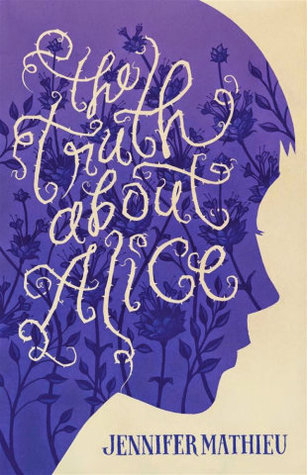 Published June 1st 2014 by Hardie Grant Egmont (UK/AUS)
Blurb (Goodreads):
There are a lot of rumours about Alice Franklin, and it's stopped mattering whether any of them are true.
It all started at a party, when Alice was supposedly with two guys in one night.
Soon everyone at Healy High has picked a side in this game of he said/she said. Do they believe Brandon Fitzsimmons, the most popular guy at school and the football hero of Healy? Or do they believe Alice, the girl who wears too-tight T-shirts and was caught kissing Brandon in a closet a couple years before?
When Brandon dies in a car crash, there are serious allegations that his death was Alice's fault. As the rumour mill spins into overdrive, Alice's small town becomes suffocating. And when the truth becomes a matter of opinion, something's got to give.
My Thoughts:
One night, a news broke. Alice Franklin slept with two guys in one night. That's when Alice's life began to change.
First, the best friend she thought she have doesn't even believe her. Then she's being accused as the reason behind Brandon Fitzsimmons' death. And now everyone thinks that she's not just a slut, but a slut who murdered the most popular guy in their school.
But what is the real story? That is what readers get to unravel in The Truth About Alice. I like the way that this book was told in multiple perspectives wherein four different characters shared their thoughts and knowledge about Alice and the night. These four characters--Elaine, Kelsie, Josh, and Kurt--are, you can say, essential to the story and telling this book in their perspectives is a great move. It preserved the mystery of Alice and it had a satisfying process of revealing the secrets.
The pace wasn't fast or slow, just right and in line with the story. I also liked the way that despite of multiple perspectives, you can still differentiate their characters and not get jumbled, and I still get to learn about Alice through them. Alice got her own perspective told on the very last chapter, which I also think is pretty smart.
However, maybe it's just me and my sensitive spot about the S-word, swearing, and bullying that I find this book harsh. The bullying is the worst part. Alice may have done wrong things in life--true or rumor--but no one deserves such treatment. I can't take the parts wherein everyone hated her and did everything to make her feel trash and her best friend is a big traitor. So if you're not into harsh stuff, I'm warning you now.
The ending isn't what I expected. I thought everything will change and back to normal like a fairytale with a happily ever after. But don't worry yet! Maybe it ended not that way I think/assumed it will be, but the ending isn't bad either. It's just...different. I can say that I liked it but I cannot say that I loved it. I also can't say that I hated it. I think I was just looking or hoping for something. Anyway, the ending was like an opposite of everything that had happened. It's cute. That's all I can say. You have to find out the truth yourself. ;)
The Truth About Alice is a heart-breaking truth in our reality. One life can change and get ruined with just one rumor or lie. It's about the inevitable change and ugly truth in some part of our lives. Not everything in our life right now is permanent and true. Jennifer Mathieu wraps The Truth About Alice in a smart and truthful way.
*Thanks to Mimi and Hardie Grant Egmont for the review copy in exchange of honest review!
Rating: