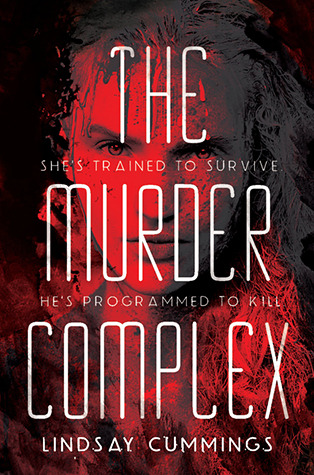 Series: The Murder Complex #1
Genre: YA, dystopian, sci-fi
Published June 10th 2014 by Greenwillow Books
Purchase: Amazon
* Barnes and Noble *
Book Depository
Blurb (Goodreads):
An action-packed, blood-soaked, futuristic debut thriller set in a world where the murder rate is higher than the birthrate. For fans of Moira Young's Dust Lands series, La Femme Nikita, and the movie Hanna.
Meadow Woodson, a fifteen-year-old girl who has been trained by her father to fight, to kill, and to survive in any situation, lives with her family on a houseboat in Florida. The state is controlled by The Murder Complex, an organization that tracks the population with precision.
The plot starts to thicken when Meadow meets Zephyr James, who is—although he doesn't know it—one of the MC's programmed assassins. Is their meeting a coincidence? Destiny? Or part of a terrifying strategy? And will Zephyr keep Meadow from discovering the haunting truth about her family?
Action-packed, blood-soaked, and chilling, this is a dark and compelling debut novel by Lindsay Cummings.
My Thoughts:
*This review is based on advance reader's copy/uncorrected proof. There might be some changes on the finished copy.
The Murder Complex isn't on my wishlist or even on my to-read list because well, the title and cover scared me off. I envisioned a dark world (darker than some books I read) and a more bloody story. A little more than I usually read. This book would be so out of place in my shelf. Then Megan of HarperCollins International sent me 3 copies of this book for a giveaway so I became curious, checked it out again in Goodreads and saw positive reviews. I am so tempted. I asked Megan if I could read and review the books she sent me (but of course I'll still give it away) and she said yes (yay, thanks again Megan!). So I read it.
As expected, Meadow Woodson, the female protagonist is tough, strong, and can fight for her own life. But she's ruthless unlike the other female protagonists I met because she's trained to survive and kill so she wouldn't be killed instead. What I didn't expect was the book was told in two perspectives, enter Zephyr James (I liked the name, btw). I think having his perspective in the book is a no-no. One, because he's supposed to be mysterious and he doesn't turn out to be one because I've read his mind, losing the excitement between him and Meadow and the world they live in.
Speaking of Meadow and Zephyr, I didn't liked how they met. Goodbye hopes. Hello, insta-love. Totally not a good thing. I also remember reading on the first few chapters wherein Zephyr is kind of obsessed with this silver haired girl who saved his life. Meadow did saved his life but that was after he said it. So I was like, maybe there's another girl who saved his life before? Another flaw of theirs is their characteristics. Meadow is a strong-willed girl while Zephyr is softer. He can kill, yes. But he's not as tough as Meadow. The way he dream and talk about this silver-haired girl is out of his guy character. He sounds like a girl while Meadow sounds like a guy.
I remember The Hunger Games in the beginning of this book. How Meadow cares about her sister, like Katniss do on hers. How Meadow strives to live and not be killed so she could bring food home. However, the similarities stops there. The Murder Complex has its own story and mystery.
I liked the fast pace of the book and the feeling of urgency for the secrets to be revealed when there are more secrets Meadow is yet to hear. When it came to the point of revealing them, I have predicted what will happen and it sucks that I'm right. I always wanted to be wrong whenever I predict--at least in books only--because I wanted to be surprised. I wanted a bomb that will make me say, "Boom! Panes." (Sorry, that's a Filipino thing.) I liked the twists but unfortunately, it just didn't left a huge impact on me.
The writing is okay but I always think that Zephyr's perspective is unnecessary and would cause a different appeal and mystery on the book and on him if removed, which I think would be good. The Murder Complex didn't turned out to be as creepy as I think. Gross and ruthless? Can be. While the world-building is interesting, I didn't connect on whatever is happening making me a poker heart and a poker face. I didn't feel the rush or excitement or the action.
There are many reasons I could love this book but there are also that I did not end up to. 1/4 of the book sounds like it was cute love story, not a bad-ass dystopian novel. I'm glad though that it changed when the first twist went out. So I'm kind of torn. I could range this book from 'okay' to 'liked it'. I'd still recommend this if you badly want to read it. It wasn't on my list anyway so that might be one of my reasons.
*Thank you Megan and HarperCollins International for the ARCs to be given away and for letting me review it! Win a copy here.
Rating: