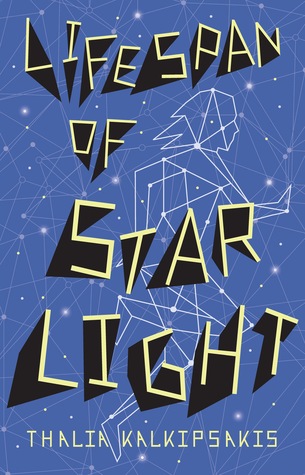 Genre: YA, dystopia, utopia, sci-fi
Published April 2015 by Hardie Grant Egmont
Blurb (Goodreads):
The first in a thrilling new trilogy of epic proportions from best-selling children's author Thalia Kalkipsakis. A fresh take on the time tripping genre, The Lifespan of Starlight is Gattaca meets The Time Traveler's Wife.
It already lies dormant within you: the ability to move within time.
In 2084, three teenagers discover the secret to time travel. At first their jumps cover only a few seconds, but soon they master the technique and combat their fear of jumping into the unknown.
It's dangerous. It's illegal. And it's utterly worth it for the full-body bliss of each return.
As their ability to time jump grows into days and weeks, the group begins to push beyond their limits, with terrifying consequences. Could they travel as far as ten years, to escape the authorities? They are desperate enough to find out.
But before they jump they must be sure, because it only works in one direction.
Once you trip forwards, there's no coming back.
My Thoughts:
I didn't feel the story or the main character right away on this book. I
was even confused and wanted to stop reading. Right
then. I wasn't being rude. You know I hate marking a book
DNF but at that time I was VERY behind my reading and
reviewing schedule and I feel like I have a bad case of
reading slump. If the book didn't caught my interest from
the first sentence or paragraph, then I'd be better off with
worthy-of-time books.
However, I continued reading
Lifespan of Starlight. One of the reasons I continued is
because I really like the sound of this book. The blurb is
very interesting and something new in my selection.
The concept is interesting, but there was a point where I was like,
that's it?
I thought there'd be more bomb in time travelling.
But
I'm glad I did read on! I end up enjoying Lifespan of Starlight.
Although there weren't many information about the
society or an expected secret information about time-travelling or "jumping", it was really good.
The ending was like waking up in a dream where the good
part is yet to happen. Before, I have already decided not
to read the sequel, but after that freaking
unbelievable ending, I'm gonna read it. If only I know how
to jump in time to have the sequel right away.
I recommend Lifespan of Starlight to readers who enjoy sci-fi, futuristic novels, time travelling, dystopia/utopia, and such. It was fresh, exciting, and with a crazy ending. You'll end up enjoying this book anyway whatever your genre is. When I reached the ending, it was all better than I expected. I may be bored in the beginning, but after that, I was drawn to the book up to the very last page.
*Thank you so much Hardie Grant Egmont for the review copy in exchange of an honest review!
Rating: