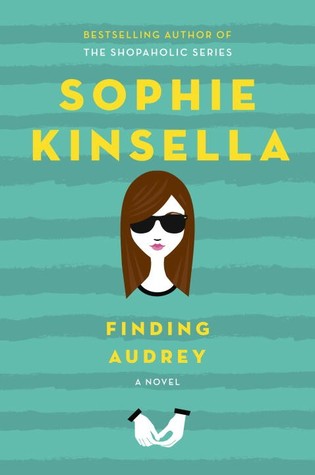 Published June 9th 2015 by Delacorte Books for Young Readers
Purchase: Amazon
* Barnes and Noble * Book Depository
Blurb (Goodreads):
From the #1 New York Times bestselling author of the Shopaholic series comes a terrific blend of comedy, romance, and psychological recovery in a contemporary YA novel sure to inspire and entertain.
An anxiety disorder disrupts fourteen-year-old Audrey's daily life. She has been making slow but steady progress with Dr. Sarah, but when Audrey meets Linus, her brother's gaming teammate, she is energized. She connects with him. Audrey can talk through her fears with Linus in a way she's never been able to do with anyone before. As their friendship deepens and her recovery gains momentum, a sweet romantic connection develops, one that helps not just Audrey but also her entire family.
My Thoughts:
So. Sophie Kinsella does YA. I wasn't greatly excited but I've read books from her and liked some. I do wonder how she would wrap this up.
From the first page I was greeted by Sophie's writing style which is light and quirky and comedic. However so, these things didn't help to keep my reading light and easy. It was rather hard. Moreover, it wasn't what I expected. I don't have any great expectations but you know, it wasn't something I thought it would be or about be. Almost the half of the book was about her crazy "serene and loving family", especially her mom obsessing about her son being obsessed with a certain computer game. In return, I didn't get much information about Audrey's illness and its history. I finished the book with some hints here and there but there wasn't an exact information so it seems incomplete. Anyway, it's all this book's majorly about and I was lost interest on the way and felt like not finishing it. But urged myself to do so because I want to see if there's any improvements.
The book was hilarious and sometimes trying to be hilarious, like watching a sitcom. Everything's exaggerated. I mean, it's not a bad thing because that vibe is expected. It's just that it's too much and I just want to know Audrey more. Really felt like I'm finding Audrey. The story picked up on the quarter of the book, which I'm glad. It became more meaningful for Audrey and I saw some improvements with her family, especially her mother. Audrey also had an obvious cute chemistry with Linus. I'm glad I didn't gave up on it.
Finding Audrey isn't what I entirely expected, although I could see it being enjoyed by Sophie Kinsella fans. It was funny and also had some touching happenings. If you want a break from stressful events or heavy (fantasy/paranormal/sci-fi/drama) novels or want a comedic vibe, Finding Audrey is for you.
*Thank you so much Penguin Random House for the review copy in exchange of an honest review!
Rating: