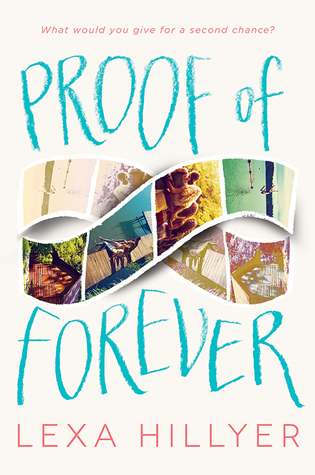 Genre: YA, contemporary, time travel
Expected publication: June 2nd 2015 by Harper Teen
Purchase: Amazon
* Barnes and Noble * Book Depository
Blurb (Goodreads):
From debut author and poet Lexa Hillyer comes the lyrical story of four seventeen-year-old friends who receive an unlikely chance to relive the perfect summer . . . and the devastating secret that could unravel it all. Elegant and evocative, Proof of Forever is one of those first novels that hooks you from the beginning and builds toward a stunning--and unexpected--end, calling to mind Gayle Forman and Ann Brashares.
Joy, Tali, Luce, and Zoe were once best friends. Now they barely speak. That is, until the fateful flash of a photo-booth camera transports them back in time, to the summer they were fifteen--the summer everything changed. Photos fade. Friendships dissolve. Summers end. But this one will change the girls forever . . . again.
Wendy Wunder calls Proof of Forever "The Sisterhood of the (Time) Traveling Pants for a new generation!"
My Thoughts:
*This review is based on advanced reading copy. There might be some changes with the finished copy.
When you look at your friends today, would you know that your friendship is forever? Do you know? Joy, Tali, Luce, and Zoe are ones of those people with friends relationship that would say they're forever. But what could be the last thing that could break it--or the first thing?
Proof of Forever
is a tale of four seventeen year-old friends who lost their friendship after their summer camp two years before. They came into the reunion of the camp never knowing that they'd be transported back in time and redo what happened two years ago. The year that their forever has changed. The year that their forever may change again.
Maybe one of the reasons why they came back to the past is to reveal/discover something about their selves they never knew, and something about the people they thought they knew and the people they should have known. It's an endless possibilities. I myself sometimes wonder how it will be if it would happen to me. Time travel, it seems, was such a wonderful idea although fictional.
I don't think
Joy, Tali, Luce, and Zoe's friendship faded with a huge reason. I think they just lacked honesty and faith in each other. But I'm glad that a lot happened on their "time travelling" and truly changed their lives once again. One thing I wasn't prepared was the ending. It made me glad but also made my heart break.
I had a little problem with the pacing in the beginning but it got interesting afterwards. The characters were enjoyable to read but wouldn't say would leave a mark.
Proof of Forever
is fun, bittersweet, heart-warming, sad and happy, and even with hints and bits of romance--a novel you and your friends would enjoy and realize how important honesty is and every moments together.
*Thank you so much HarperCollins International for the review copy in exchange of an honest review!
Rating: