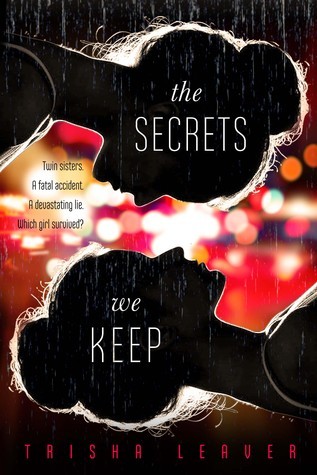 Published April 28th 2015 by Farrar, Straus and Giroux (BYR)
Purchase: Amazon
* Barnes and Noble * Book Depository
Blurb (Goodreads):
A girl takes over her twin sister's identity in this emotionally charged page-turner about the complicated bond between sisters.
Ella and Maddy Lawton are identical twins. Ella has spent her high school years living in popular Maddy's shadows, but she has never been envious of Maddy. In fact, she's chosen the quiet, safe confines of her sketchbook over the constant battle for attention that has defined Maddy's world.
When—after a heated argument—Maddy and Ella get into a tragic accident that leaves her sister dead, Ella wakes up in the hospital surrounded by loved ones who believe she is Maddy. Feeling responsible for Maddy's death and everyone's grief, Ella makes a split-second decision to pretend to be Maddy. Soon, Ella realizes that Maddy's life was full of secrets. Caught in a web of lies, Ella is faced with two options—confess her deception or live her sister's life.
My Thoughts:
Stories like these are interesting for me, even in movies or TV. I always wondered what will happen to the pretender, the family, peers, and environment of the person being impersonated, the effects and consequences, the reaction after the revelation. It's like hide-and-seek, only you're hiding behind the face/personality of other people. I like the thrill of it.
Ella and Maddy are entirely opposite despite being twins--and identical, mind you. You can never tell them apart except on their personalities, crowd they hang out with, and when Maddy puts on her make-up. Ella prefers to have horror movie marathon with her best friend Josh and wear comfortable jeans and shirt, while Maddy hang out on the popular crowd and do popular people do. But when Ella decided to pretend to be her identical twin sister after a devastating accident, I have understood her. When a lot of people are waiting for the other one to come back and you only have one or two to come back to, would you let all these people grief and see the disappointment in their faces? It sounds crazy and stupid, I know, but I understand Ella's reason. I understand but I won't say I support it.
When I thought this book was about self-discovery, I was wrong. It was more like realizing how important and loved you are regardless of what you think otherwise. And I can very much relate on that one. I felt that tug in the heart when I realize the thing the main character hasn't (at that time). I almost cried reading this book. The writing was beautiful and I also like that it explored family, friendship, and a little bit of romantic relationship.
I really liked this book. It's really good. The Secrets We Keep is one of the most remarkable books I've read this year. Truly unputdownable, emotional, deep, and gripping. It's a shot to the heart. I couldn't say it's perfect--almost--because I think there's something lacking. I know that this book could gave something, not more, but all.
*Thank you so much Macmillan International for the review copy in exchange of an honest review!
Rating: