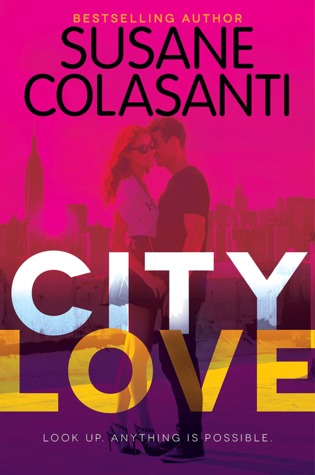 Series: Untitled #1
Genre: YA, contemporary, romance
Published April 21st 2015 by Katherine Tegen Books
Source: Publisher via Netgalley
Purchase: Amazon
* Barnes and Noble * Book Depository
Blurb (Goodreads):
Three girls are about to discover the meaning of city love. From bestselling YA romance author Susane Colasanti!
Sadie, a born and raised New Yorker, is hopeful and romantic and an eternal optimist who is ready to find her soul mate.
Darcy is a free spirit from SoCal with rebellious tendencies and unlimited financial resources, looking for summer boy adventures.
Rosanna leaves Chicago for NYC with a grand total of seventy-three cents so she can reinvent herself and forget about her past.
Sadie, Darcy, and Rosanna are living together in New York City the summer before their freshman year of college begins. With no parents, no rules, and an entire city to explore, these three girls are on the verge of the best summer of their lives. Told from alternating points of view, City Love captures the moments in each girl's life when everything is thrilling, amazing, and terrifying all at once…in a way it will never be again.
My Thoughts:
*This review is based on advance reading ecopy. There might be some changes with the finished copy.
It's amazing that this book was told in three (female) perspectives--that means I get to witness three different lives, personalities, and love stories, and at the same time, these women's lives are connected.
In
City Love,
I get also to witness the beauty and life of New York City through Sadie, Darcy, and Rosanna. Though it's not the kind of book that would tour you all throughout the city, the experience, vibe, and feel of NYC was pretty much described by the three young ladies. Their enthusiasm about the city was radiating, connecting themselves to the readers.
Sadie is like the girl-next-door. She's lived her entire life just less a mile away from New York yet she's becoming more and more in love with the city. Darcy was the most adventurous of three when it comes to dating. Lively but can be intimidating. Rosanna was like the opposite of Darcy. She's on a tight budget and reserved when it comes to dating. Three different lives and personalities yet brought as one by one city.
My experience in reading City Love wasn't an instant love. It was more like a developed one. I didn't liked it or not liked it at first but the story gets interesting that's why I continue to read with more enthusiasm than before. Each love stories/first meetings of three couples were cute and adorable in butterfly-in-the-stomach way, and so are their acquaintances until it led to something more. However, I was taken aback on how fast their relationship go (at least for Sadie and Rosanna's). So it looked more like an attraction rather than real love.
Jude was the most likable male character for me. I think he's the most decent guy and I also like that he's kind of adorkable. Austin started out good, great even. I liked him the most..in the beginning. But I start to feel there's something more to him than he lets on. It's so obvious. And when I reached the ending, I was right. D (or Donovan) was too good to be true as well. I don't know..he might only be three years older than Rosanna but the image of him that stuck to me was dirty old rich man. Yikes, but true. Can't help it! He's so rich and he's older that's why.
I was enjoying City Love and became more interested in the turn of events when it suddenly ends. It ends just. Right. There. I cannot believe it! I didn't know it has a second book or that this is a series! So it's like a companion series but you get to read all the characters' lives in one book. But anyway, I'm still intrigued to find out what will happen next to the three complicated love stories I've witnessed.
I like most the vibe of this book from the three narrators and the cute romantic dialogues and scenes. I think I need more background and depth on the characters, a slower pace of their lives. But overall, City Love was wonderful.
*Thank you so much to HarperCollins for the review ecopy in exchange of an honest review!
Rating: