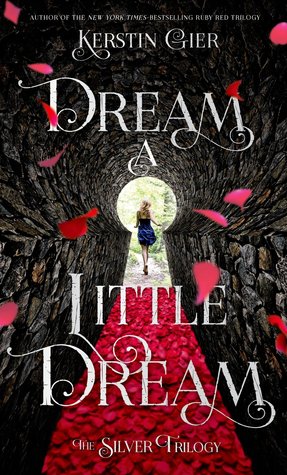 Published April 14th 2015 by Henry Holt and Co. (BYR)
Purchase: Amazon
* Barnes and Noble * Book Depository
Blurb (Goodreads):
Mysterious doors with lizard-head knobs. Talking stone statues. A crazy girl with a hatchet. Yes, Liv's dreams have been pretty weird lately. Especially the one where she's in a graveyard at night, watching four boys conduct dark magic rituals.
The strangest part is that Liv recognizes the boys in her dream. They're classmates from her new school in London, the school where she's starting over because her mom has moved them to a new country (again). But what's really scaring Liv is that the dream boys seem to know things about her in real life, things they couldn't possibly know--unless they actually are in her dreams? Luckily, Liv never could resist a good mystery, and all four of those boys are pretty cute....
My Thoughts:
I pretty much liked everything about Dream A Little Dream. From the moment I saw it on Goodreads to the time I finished reading it. It didn't turned out exactly as I expected (blurb reminds me of Alice in Wonderland, but it's different), but still it's good and I'm sure the sequel is one of the books I'd greatly anticipate for next year.


Dream A Little Dream was a little lighter than I thought and a little darker than I suppose. Liv is a fifteen-turned-sixteen-year-old girl so her being somehow juvenile was obvious on her narration, but perfectly fits the book. She and her sister, Mia, are funny and had me giggling. It was fun and refreshing to be in Liv's world and thoughts. What I didn't liked about her was her being impulsive. Curious girl she was, she doesn't stop to think the consequences of whatever she's about to do. And for me, it's too dangerous.
There's also a love story but it didn't took up the entire novel. It's an added flavor to this exciting book and it didn't turned out bad at all. It was rather cute and swoon-worthy. The characters were like the colors of the rainbow. Although different to each other, they have their own hue that you wouldn't miss. Like, if someone isn't there, you'd know something's missing and you can't call it a rainbow (or a book) when one is missing. These characters, despite minor, they contribute to make this book more interesting and less boring.
The elements of this book were good but the connection between the dreams and its doors and the stupid creepy "game" the boys played the previous Halloween was lost on me. It becomes more confusing on the ending, especially on the unexpected twist that came. At the same time, I'm more curious and willing to wait in order to find out what's next.
Dream A Little Dream is a perfect mixture of creepiness, oddness, fairytale-like, cute stuff, mystery, and witty-ness. It has interesting characters and personalized dream doors. Fun and really entertaining read!
P.S I also love the mystery behind Secrecy's identity (he/she's the writer behind the Frognal Academy's Tittle-Tattle Blog). My bet is that he's a he. And that he is Jasper Grant. Come back to me when you've read this book and let's talk about your guess on who Secrecy is. ;)
*Thank you so much Macmillan International for the review copy in exchange of an honest review!
Rating: