Check out the complete tour schedule here.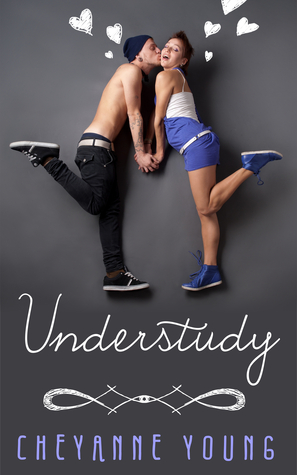 Genre: YA, contemporary, romance
Published February 15th 2014 by 336Love
Source: Author via tour host
Purchase: Amazon
* Barnes and Noble
Blurb (Goodreads):
The high school play is in two months and senior Wren Barlow just became director. Wren still isn't over the fact that she got stiffed as a stagehand instead of the lead role that she totally deserved. Now she is in charge of rehearsals, costumes, navigating around cast member hookups and managing the real life drama at home.
The principal counts on her to succeed because tickets have been sold and the money has been spent. But when he drops a gorgeous bad boy on her and wants him to help the play for extra credit, she falls hard for someone she knows she can't date. With everything spinning out of control, the mysterious and secretive detention king named Derek has a few tricks up his sleeve and wants to help—too bad Wren is scared to give him a chance to prove himself.
My Thoughts:
When you know the title of the book--Understudy--and started reading, you'll know what this book is obviously about and what will happen eventually. However, even if I know what will happen next, I still read it because well, it sounds cute and my kind of read.
Wren auditioned on their school play for the main role not because it's her dream but because it would look good on her college application. Unfortunately, her teacher-slash-aunt turned her down and gave an 'important' role instead--a prop construction manager. At least she's also the understudy of the lead role. But that is next to impossible, right? Unfortunately again, her aunt resigned as a teacher/director of the play then the principal assigned Wren to be the director. It's like the whole world is on her shoulders! And not to mention there's this hot guy who she instantly crushes on then instantly should forget because he's dangerous. A no-no.
First thing that I noticed in this book was the predictability of events and the mystery of Derek. Then there's like an insta-love that I hoped not there. These are enough reasons to stop reading. But I didn't. Maybe because it's a light read and Wren is fun that made the entire book like a sunshine after a cloudy day.
Understudy is entertaining and cute read. I finished it in one day because it's a kind of book you'd want to finish right away. Also, the story is not so long. I actually remember chick flicks while reading this. I would recommend this to contemporary romance readers.
*Thanks Dianne of Oops! I Read Again Tours and Cheyanne Young for the review ecopy!
Rating:
About the Author
Cheyanne is a native Texan with a fear of cold weather and a coffee addiction that probably needs an intervention. She loves books, sarcasm, nail polish and paid holidays. She lives near the beach with her family, one spoiled rotten puppy and a cat who is most likely plotting to take over the world.
She also writes under the pen name Amy Sparling.
***
GIVEAWAY!