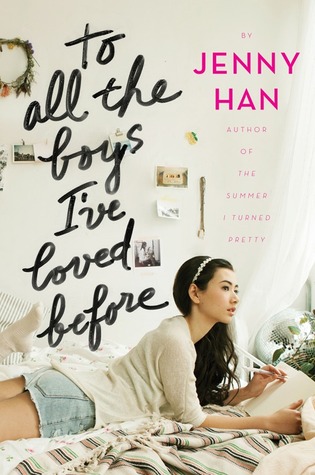 To All the Boys I've Loved Before
Series: To All the Boys I've Loved Before #1
Genre: YA, contemporary, romance
Published April 15th 2014 by Simon & Schuster Books for Young Readers
Purchase: Amazon
* Barnes and Noble *
Book Depository
Blurb (Goodreads):
Lara Jean's love life goes from imaginary to out of control in this heartfelt novel from the New York Times bestselling author of The Summer I Turned Pretty series.
What if all the crushes you ever had found out how you felt about them... all at once?
Lara Jean Song keeps her love letters in a hatbox her mother gave her. They aren't love letters that anyone else wrote for her; these are ones she's written. One for every boy she's ever loved—five in all. When she writes, she pours out her heart and soul and says all the things she would never say in real life, because her letters are for her eyes only. Until the day her secret letters are mailed, and suddenly, Lara Jean's love life goes from imaginary to out of control.
My Thoughts:
A moment of silence first, please.
Okay. That sounds good. Now..
OH. MY. GOD!!!!!!!!!!!!!!!!!!!!!!!!!!!!!!!!!!!!!!! *throws confetti* *crazy dance* *fist pump*
*settles down*
I have waited all my life to read this book and I just wanna hug Jenny Han right now for writing this and never letting me down.
The first thing I noticed in this book is the title. To All the Boys I've Loved Before. Then the cover. *sigh* Beautiful. And when I read the blurb, I promised myself that I'll do everything to get my hand a copy. From the blurb alone, I can relate to the main character, Lara Jean. She writes letters to the boys she loved before and then one day, the letters were sent out, without her knowledge. You can imagine the disaster that this will cause. Now when I said I can relate to her, I didn't mean it happened to me exactly. I meant this: 'When she writes, she pours out her heart and soul and says all the things she would never say in real life.'
I don't write my crushes letters, but I do wrote them poems on my cellphone and save it on drafts (someday I wanted them to become a song). I remember saving 30+ poems about my life in high school (not all are about my crushes, hey). Unfortunately, my phone went dead--not dead battery, but dead dead--and I freaked out because I didn't had a chance to copy it in a paper or notebook. It's just like that: erased. And then when I got a new phone, I did the same thing. Wrote about my new crushes and journeys in college and well, it went dead too (what can I do, they're both second hand!). So okay, that's not the point. The point is, I wrote all about my innermost feelings about them because I will never have the guts to say all those things to them, let alone speak to them. I wrote what I liked, loved, and hated about them, how they ignore me or like someone who's in my circle of friends. (Ouch) So when I found out that there's a book written just like me, I'm like, I NEED TO READ THIS! Because not every day you meet people (or books) who has the same story as you (and that's why I love Taylor Swift too [way to go, segue]. But seriously, somehow she also reminds me of this book).
I instantly liked Lara Jean the moment I read To All the Boys. She's not like the other main characters in YA novels who are whiny, annoying, and/or self-pity. Lara Jean is a likable character with her love with her family and sisters. I don't think I've read a YA novel that is close to her family and siblings as much as Lara Jean do. They have so much love with each other that she turned out to be a good person. She's not awkward or popular, not sexy or cussy, she's not trying to be somebody just for someone to like her. She knows who she is and she's not afraid of being different (she's a half-Korean). The more I know her, the more I realize that we're alike in some things like being an NBSB (No Boyfriend Since Birth) and her perception about dating/having a 'real' person in front of you.
"It's scary when it's real. When it's not just thinking about a person, but, like, having a real person in front of you, with, like expectations. And wants."
--- RELATE MUCH.
What I liked also about this book is the other characters--her family and friends. Like Lara Jean, her family is warm and loving and would make you feel you want to be part of them or be their friend at least. I also love the fast-pace of the book and how the things turned out. I love the light feeling while reading it and I found myself laughing on some parts.
I wished I haven't read some of the reviews before reading this book because they have kind of spilled some beans that are better left for the other readers to find out. So I wasn't surprised on a certain character and how the book end because of it. But even if I know what was coming, I still enjoyed every page. The sequence wasn't that much eventful but the simplicity won my heart. It's neither boring nor annoying. Every single page is worth reading, even if it's just her and her sisters. Plus, the writing is as gorgeous as the entire book.

Like it's cover, To All the Boys I've Loved Before, is a cute, light, funny, romantic, fantabulous (fantastic + fabulous) read. Every contemporary readers would love this and if you're not, you will still do. Trust me. The long wait was totally worth it and my expectations were not just met, but Jenny Han also gave me better than anything I could wish for. I could really say that this book is one of my favorite reads this year. I'm looking forward in re-reading it (it's kind of a big deal because I don't do re-reads;). And since I'm not that surprised with the ending, I didn't freaked out (but I did feel sad that I'm closing the book and leaving them) because I know that there'll be a book two! YAY! Thank you so much, Jenny Han!!!!

In case you haven't figured this out, To All the Boys I've Loved Before is highly recommended! ;)


Rating: