What's Cool? is an anytime meme where I feature all the Cool things I got, happened, or blog news.
Yay for my comeback, yay for summer!
Your summer might have just started, but in my country, it has ended and everyone's back in school. Except for me. Technically, this is just the start of my summer vacation. I spent April and May reviewing and preparing for my board exams and now I'm currently having a blast with my books while looking for a job. Wish me luck! :D
So because I've been off for a month, I haven't shared my Cool news and book hauls to you until the four or five books turned into huge pile. Ready?
Maybe Someday by Colleen Hoover
Unhinged by A.G Howard (Splintered #2)
Let the Sky Fall (book 1) and Let the Storm Break (book 2) by Shannon Messenger
Say What You Will by Cammie McGovern (review)
On the Fence by Kasie West
The Things You Kiss Goodbye by Leslie Connor
The Vanishing Season by Jodi Lynn Anderson
Vivian Divine is Dead by Lauren Sabel
Through the Ever Night by Veronica Rossi (Under the Never Sky #2)
Hollow City by Ransom Riggs (Miss Peregrine's Peculiar Children #2)
Bought from National Book Store's Warehouse sale (Superbranch):
The Way We Fall by Megan Crewe (Fallen World #1)
On the Jellicoe Road by Melina Marchetta
Attachments by Rainbow Rowell
Cinder by Marissa Meyer (The Lunar Chronicles #1)
*with THG bookmark (which I LOVED) and cute sticker notes
For review:
Red Rising by Pierce Brown (Red Rising #1)
We Were Liars by E. Lockhart
The Truth about Alice by Jennifer Mathieu

Won:
To All the Boys I've Loved Before by Jenny Han
The Ophelia Prophecy by Sharon Lynn Fisher
*E-galleys*
For review:
Words and their Meanings by Kate Bassett
Winterspell by Claire Legrand
Otherbound by Corinne Duyvis
Free (from Kindle):
Pride and Prejudice by Jane Austen
So thankful and excited with this one! I haven't read Pride and Prejudice (I know) and I can't wait to! Well, if I found a time. :3
Super thanks to Megan and HarperCollins International, Jennifer and Penguin Random House International, Mimi and Hardie Grant, Alexis and Tor Teen, Flux, Simon and Schuster, Amulet Books, Netgalley, Amazon Kindle, Jas, Bea, and Bluie!
The Escapist celebrated it's second year anniversary last May 27th. Join us and celebrate by checking out the AWESOME giveaway, thanks to HarperCollins International!
I'm joining a new Cool meme called
Life of a Blogger
. Here, you can learn more about me outside blogging. I decided to join this meme because I've been posting book-related posts and no personal one. Plus, the topics are so interesting! Don't forget to comment your link (if you also joined) or answers so I'd get to know more about
you
too! Hosted by
Novel Heartbeat
,
Life of a Blogger
is scheduled to post on Thursdays. Check out my first ever
Life of a Blogger
post on Thursday!
National Bookstore is doing it again--being awesome by bringing us amazing authors in our land!
Jenny Han, the author of
Summer
series (which I loved),
Burn for Burn
series, and
To All the Boys I've Loved Before
(one of my most-awaited books in 2014) will visit Manila for a book signing event! Be at NBS Glorietta 1 on June 21st, 2 pm, or if you're from Cebu on June 22nd, 2 pm, at NBS SM Cebu.
This
might be helpful if you have questions.
But wait, there's more!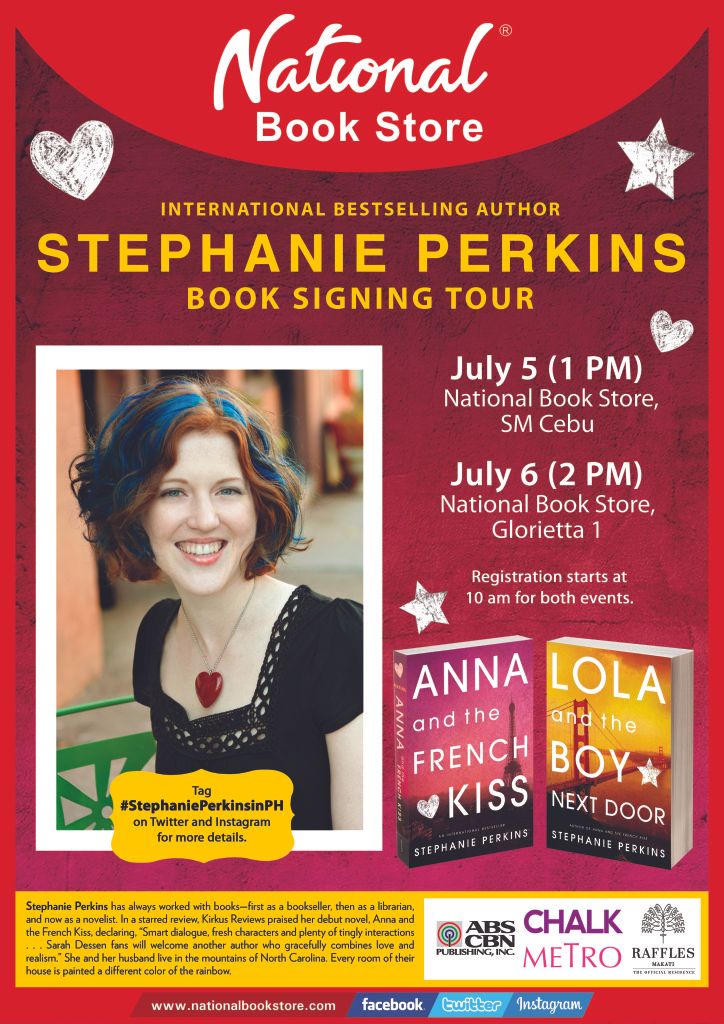 Stephanie Perkins is also invading Manila and Cebu!!!!!!! Oh God, I've been waiting for this forever! *Etienne St. Clair feels!* Hopefully my [future] schedule aligns with the date of event. Stephanie will be at NBS SM Cebu first on July 5th, 1 pm. Then she'll be on NBS Glorietta 1 on July 6th, 2 pm.
FAQs here
.
If you have questions that aren't on the FAQs, don't hesitate to tweet or message NBS on
Twitter
or
Facebook
! Now my question is...will I see you there? ;)
***
What is/are your Cool stories? Share them below!
(You can also share your In My Mailbox/Stacking the shelves/
Sunday Post/personal meme links!)