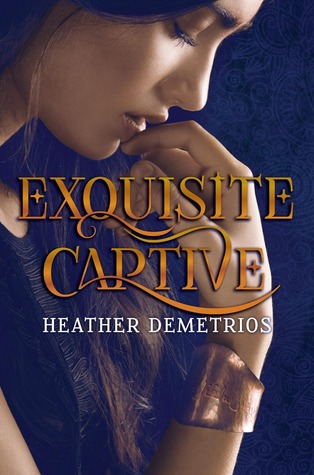 Series: Dark Caravan Cycle #1
Published October 7th 2014 by Balzer+Bray
Purchase: Amazon
*
Barnes and Noble
*
Book Depository
Blurb (Goodreads):
Forced to obey her master.
Compelled to help her enemy.
Determined to free herself.
Nalia is a jinni of tremendous ancient power, the only survivor of a coup that killed nearly everyone she loved. Stuffed into a bottle and sold by a slave trader, she's now in hiding on the dark caravan, the lucrative jinni slave trade between Arjinna and Earth, where jinn are forced to grant wishes and obey their human masters' every command. She'd give almost anything to be free of the golden shackles that bind her to Malek, her handsome, cruel master, and his lavish Hollywood lifestyle.
Enter Raif, the enigmatic leader of Arjinna's revolution and Nalia's sworn enemy. He promises to free Nalia from her master so that she can return to her ravaged homeland and free her imprisoned brother—all for an unbearably high price. Nalia's not sure she can trust him, but Raif's her only hope of escape. With her enemies on the hunt, Earth has become more perilous than ever for Nalia. There's just one catch: for Raif's unbinding magic to work, Nalia must gain possession of her bottle…and convince the dangerously persuasive Malek that she truly loves him. Battling a dark past and harboring a terrible secret, Nalia soon realizes her freedom may come at a price too terrible to pay: but how far is she willing to go for it?
Inspired by Arabian Nights, EXQUISITE CAPTIVE brings to life a deliciously seductive world where a wish can be a curse and shadows are sometimes safer than the light.
My Thoughts:
*This review is based on advance reading copy. There might be some changes in the finished copy.
When I read the word 'jinni' I knew I have to read this novel. Although there's part of me telling I should not read this book because it could turn out to be bad than I expected, still I went for it. That's why I wasn't prepared when I read this book and it just blew me away. I never felt this way for ages!
Exquisite Captive was told in third perspective, focusing on Nalia. Nalia is a jinni and has been tied to her cruel master, Malek, for 3 years. And then there's Raif, Arjinna's leader that literally leaped out of Malek's garage, into their lives. Now if you'd read those few facts, you'd think this is 'just another YA fantasy' you've read so many times or would turn out to be love-sick teenagers. But surprise, it's not.
Nalia is your next favorite female protagonist. Strong, fierce, likable, and, as I am so much grateful about, not a whiner. I liked how easy it was to read this book with her as the main character. Malek was described as cruel master but I saw him as sweet and adorable in an edgy way. Raif came as surprise. I do not have a first impression to him and I do not think of him as much--not until the story got more interesting. I think this book has already won my heart with these interesting characters. I'm not going to talk about further things about this book, afraid that I might spill some unintended spoilers. But I promise you, this is really great.
I've been waiting for a book like this. I've read several great books and a lot of average-to-cliche books. I'm dying to read my next favorite book. I wanted something new and unexpected and this. Exquisite Captive has strong characters, impressive plot and world-building, and yet there's more to offer. I was excited to finish the book but also felt a separation anxiety. It happens to you when a book has grown closer to you and you don't wanna end it. You just wanna be in that moment, in their made-up world.
I truly enjoyed and loved Exquisite Captive. It's exquisitely written and a total page-turner. I would highly recommend this to everyone, especially if you're into fantasy, non-satiating sexiness, and something new, and for fans of Maria V. Snyder.
You could win a copy of Exquisite Captive on my Best of 2014 giveaway! Click here.
*Thank you so much Megan and HarperCollins International for the review copy in exchange of an honest review!
Rating: