The last author to celebrate her debut experience with us for the year 2014 is the Half Bad author, Sally Green!


1. What's the best thing that happened after your book was published?
There have been so many great things from simply holding HALF BAD
in my hands to hearing from fans of HALF BAD. But mostly I love
writing and now not only am I being paid to do what I love but I'm
working with a great editorial team at Penguin in the UK and Viking in
the US – that's the biggest buzz of all.
2. How did you celebrate the publishing of your book?
There has been a lot of champagne involved. One of the nicest events
was the book launch in my home town which was attended by about 80
people including my family and also some old school friends whom I
hadn't seen for years. It was a wonderful evening for me.
3. When is your best time to write?
For HALF BAD I used to write long into the night and preferred that
time as it was quiet and I knew I wouldn't be disturbed. But I couldn't
keep that up and now I work 9-5 (well 9am- 10pm) and I'm learning
that I can write at any time as long as it's quiet.
4. Do you read reviews of your book?
Some, but not all. It's great to read a good review (obviously) and
reading the occasional harsh one is good remind myself that I've still
got a lot to learn. I have to rely on two main critics though – myself and
my editor.
5. What is your best or most unforgettable moment with a fan?
Gosh meeting HALF BAD fans is always great and everyone is so
enthusiastic and polite – I can't pick one thing. The first time I had a
long signing queue at an event (YALC in London, July 2014) I was so
impressed with how patient and friendly everyone was and that will
always be a great memory for me.
6. Was there any book/s from other debut author of 2014 that you loved?
My favourite YA book of 2014 is 'Shadow of the Wolf' by Tim Hall, who
happens to be a debut author. This is the story of Robin Hood, but told
in such a unique and new way that I fell in love with it.
7. Are you interested in writing in a different genre or for a different
audience?
I would like to try different genres at some stage, and I'm definitely
drawn to more adult books (not younger children's books), possibly
crime or even comedy. But at the moment I'm busy with the HALF
BAD trilogy and I'm sure the book I write after that will also be YA (as
I'm beginning to have ideas for it already).
8. Share us one embarrassing moment you've had.
I really can't think of one (she lies, too embarrassed to share).
9. Favorite color?
The colour that suits me most is dark brown, which I avoided wearing for
years as my school uniform was dark brown and orange, and so of course I
hated those colours. Now I love dark brown jumpers and shirts.
Favorite movie?
I have two favourite movies – Pulp Fiction and Annie Hall. I think both are
close to perfect in their own way (actually The Godfather probably should be
on that list too).
Favorite ice cream flavor? Vanilla – it sounds boring but it isn't.
Favorite song? I'm currently going back to songs from my younger days – still
love Nightswimming by REM and the video is great
https://www.youtube.com/watch?v=ahJ6Kh8klM4
Ultimate celebrity crush (dead or alive)? There's something about Johnny
Depp isn't there?
10. What's next for you?
I've just finished HALF WILD which is being published in the UK and US in
March 2015 and so now I'm writing the third book of the HALF BAD trilogy.
I've written about 40k words of it so far but it still hasn't got a name yet and I
really do need to work out what it will be.
About the Author
Hi - I'm Sally Green, author of Half Bad. It's my first book - and the first in a series of three, to be published by Penguin in March 2014.
I've had a whirlwind 2013, submitting Half Bad to an agent in January (and getting an agent - the wonderful Claire) and then agreeing a deal with Puffin (UK) and Viking (USA) in March. In April I agreed a film deal with Fox 2000 with Karen Rosenfelt as producer (google her!). Since then Half Bad has been sold to more countries, and I've been busy editing Half Bad and have started work on the second book of the trilogy.
I live in north-west England. I love to read, walk in the country and would like to drink less coffee (but I know it's impossible - I'm an addict)!
My online world will be based at www.halfbadworld.com from November 2013 onwards, but until then, you can find me and Half Bad on Wattpad.
Find her: Website * Twitter * Goodreads
This book is on my must-read-soon-coz-I'd-die-if-I-don't list! Because: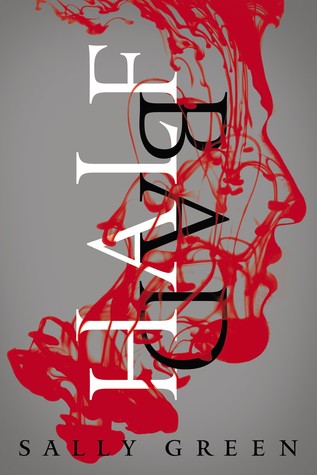 Half Bad
(The Half Bad trilogy #1)
Published March 4th 2014 by Viking Juvenile
Blurb (Goodreads):
Sixteen-year-old Nathan lives in a cage: beaten, shackled, trained to kill. In a modern-day England where two warring factions of witches live amongst humans, Nathan is an abomination, the illegitimate son of the world's most terrifying and violent witch, Marcus. Nathan's only hope for survival is to escape his captors, track down Marcus, and receive the three gifts that will bring him into his own magical powers—before it's too late. But how can Nathan find his father when there is no one safe to trust, not even family, not even the girl he loves?
Half Bad is an international sensation and the start of a brilliant trilogy: a gripping tale of alienation and the indomitable will to survive.
Yesterday: Lex Martin, author of Dearest Clementine. Check out the schedule here and read the coolness of each of the featured 2014 debut authors!
GIVEAWAY!
- UK copy of Half Bad
- open internationally
- contest ends January 14th
- each entry will be checked. Daily entries requires different info/links every day. This will be checked as well so be honest!
- winner must respond on email notification within 48 hours or else we will pick another winner
a Rafflecopter giveaway