Know more about Amy Ewing's experience as--finally!--an author and other personal things!
1. What's the best thing that happened after your book was published?
Ah, so many amazing things to choose from! Definitely seeing my book on the shelves is up
there. And hearing from people who read the book and loved it. It's so weird to realize that that
private thing you were working on for years is suddenly public, and people besides your friends
and family can read it. But it's also the best part, sharing these characters and the world I love
with readers!
(Comment: Aw, that sure is a sweet thing!)
2. How did you celebrate the publishing of your book?
My parents came to visit me in New York and we spent the afternoon going around to a bunch of
different bookstores. It was amazing, seeing my book among other books I've read and authors I
admire. Then there was a launch party at the Upper East Side Barnes and Noble, with all my
friends and family and people from HarperCollins and my agent. And after that there was a
smaller party at a local restaurant. Champagne was definitely flowing—I think the Duchess would
have approved!
3. When is your best time to write?
It really depends on the book and where I am in the process. I find that I'm better at first drafting
in the afternoons, but revisions must be done in the morning. And I can revise for much longer
than I can free write, so I'll spend six hours a day when revising and maybe two when first
drafting.
4. Do you read reviews of your book?
I don't. I read some in the beginning, but I started to feel like they were too much of a distraction,
even the positive ones. I've decided to approach it with the attitude of, if you don't like the book,
that's ok. If you do like the book, that's great. Not every book is for every person. But I don't think
it's helpful to me to know every single thing everyone says about it. Writing comes with enough
self-doubt as it is! And it's out of my hands now—readers can and should react however they
want.
5. What is your best or most unforgettable moment with a fan?
A woman at BEA made me a mini version of The Jewel. She had shrunk the actual image of The
Jewel cover and glued it on the front of this teeny tiny book. It's amazing. It sits on my windowsill
with all my plants.
6. Was there any book/s from other debut author of 2014 that you loved?
It wasn't her debut (though she did debut in 2014, just with a different book), but I absolutely
loved EXQUISITE CAPTIVE by Heather Demetrios. It's a book about jinnis and I got sucked right
into it. The magic! The world building! The sexy men! It was right up my alley.
(Comment: Oh, yes! I'm reading that book now and I'm enjoying every bit of it.)
7. Are you interested in writing in a different genre or for a different audience?
Right now I'm very happy working with the fantastical. I love creating new worlds, I love adding
dashes of magic, and I like keeping things sort of old fashioned. And dark. But that's not to say
that sometime in the future I wouldn't try out a contemporary or a middle grade. I plan to keep
writing for a long time, so I definitely want to keep an open mind.
8. Share us one embarrassing moment you've had.
This isn't writing related, but when I was living in Paris, there was a night—maybe a month after
I'd arrived—when I was finally feeling confident about the language and the new city. So I
decided to get all done up and go out. Short skirt, killer heels, the works. And I was walking down
Rue LaFayette and thinking, Oh yeah, I look great, I feel great, I am totally rocking Paris! And
then I missed a curb and faceplanted right onto the street. And all these Parisians came running
over to see if I was okay and every word of French I'd ever learned went straight out the window
and all I could do was say, "I'm fine, I'm fine, I'm fine," over and over again. I was a bit more wary
when I went out in heels after that!
(Comment: I was actually thinking of doing that when I fly to Paris soon. Thanks for the heads up!)
9. Favorite color?
Purple. Too predictable? :)
Favorite movie?
The Lord of the Rings trilogy. I know it's technically three movies but…don't make me choose.
Favorite ice cream flavor?
Hmm. I don't really like ice cream—I know, I'm weird—but when I was a kid I loved black
raspberry ice cream with chocolate sprinkles. Nom.
Favorite song?
Skinny Love, but the Birdy version, not the Bon Iver one.
Ultimate celebrity crush (dead or alive)?
TOM HIDDLESTON. (I felt he needed to be all caps)
10. What's next for you?
I'm hard at work on revisions for the second book, and I'll have to start drafting the
third one pretty soon—eep! I'm also working on a collaboration with my best friend
and fellow writer, which is really cool since I've never collaborated on a project
before.
About the Author
Amy Ewing is the young adult author of The Jewel, the first in a trilogy from HarperTeen, coming out September 2014.
She grew up in a small town outside Boston, where her librarian mother instilled a deep love of reading at a young age. Amy moved to New York City in 2000 to study theater at New York University. Unfortunately, her acting career didn't quite pan out. She worked in restaurants, as an administrative assistant, a nanny, and a sales representative for a wine distributor before the lack of creativity in her life drove her to begin writing.
Amy received her MFA in Creative Writing for Children from The New School, where she was lucky enough to meet a fabulous community of YA writers who keep her sane on a daily basis. She lives in Harlem, where she spends her days writing, eating cheese, and occasionally binge watching The Vampire Diaries.
Find her: Website * Twitter * Facebook * Goodreads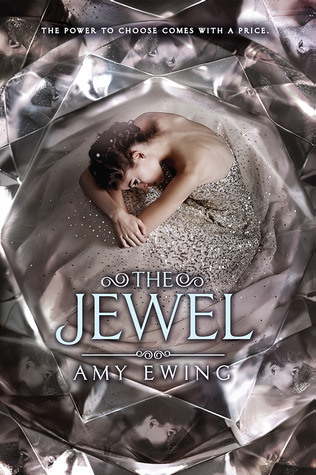 The Jewel
Published September 2nd 2014 by HarperTeen
Blurb (Goodreads):
The Jewel means wealth. The Jewel means beauty. The Jewel means royalty. But for girls like Violet, the Jewel means servitude. Not just any kind of servitude. Violet, born and raised in the Marsh, has been trained as a surrogate for the royalty—because in the Jewel the only thing more important than opulence is offspring.
Purchased at the surrogacy auction by the Duchess of the Lake and greeted with a slap to the face, Violet (now known only as #197) quickly learns of the brutal truths that lie beneath the Jewel's glittering facade: the cruelty, backstabbing, and hidden violence that have become the royal way of life.
Violet must accept the ugly realities of her existence... and try to stay alive. But then a forbidden romance erupts between Violet and a handsome gentleman hired as a companion to the Duchess's petulant niece. Though his presence makes life in the Jewel a bit brighter, the consequences of their illicit relationship will cost them both more than they bargained for.
Yesterday: Stacey Nash, author of Forget Me Not. Tomorrow: Kat Ellis, author of Blackfin Sky. Check out the schedule here.