My Last Kiss author, Bethany Neal, named her facts as "fun/weird". Find out why!
Bethany Neal
1. I was born with a silver streak in my hair a la Rogue from Xmen (or Elsa from Frozen depending on your age/superhero preference).
2. I used to have a pet pot-bellied pig named Mozart.
3. I was a competitive synchronized figure skater throughout high school and college.
4. My spirit animal is Miss Piggie.
5. I can fit my whole fist inside my mouth.
6. I paint my nails a new color/design every Sunday.
7. I know all the words to every song on the Smashing Pumpkins's "Melancholy & the
Infinite Sadness" double album box set. (Years of teenage angst put to good use.)
8. I also know the words to every song on My Chemical Romance's "The Black Parade" album. (Years of "adult" angst put to good use.)
9. I have a shelf in my office dedicated to "dead girl" books.
10. I (not so) secretly root for villains in books, TV shows, and movies.
11. My second toe is longer than my big toe, which was seen as an idealized form for Greek sculptors. Long story short, my feet would have made Michelangelo swoon (the sculptor, not the Ninja Turtle...at least I think. Who knows what that orange-masked reptile is into. No judgement).
12. I like to take walks in the rain.
13. I'm convinced I was a maid at Versailles in another life.
14. I'm a Slytherin. (You've been warned.)
About the Author
Bethany Neal writes young adult fiction with a little dark side and a lot of kissing from her Ann Arbor, Michigan home. She graduated from Bowling Green State University and has worked as an interior designer, photographer, and teacher's assistant at a K-8 school. She is obsessed with (but not limited to): nail polish, ginormous rings, pigs, pickles, and dessert. MY LAST KISS is her debut novel.
Check out Bethany's debut novel!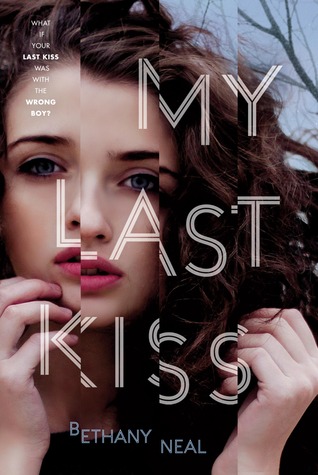 My Last Kiss
Published June 10th 2014 by Farrar, Straus and Giroux
Blurb (Goodreads):
What if your last kiss was with the wrong boy?
Cassidy Haines remembers her first kiss vividly. It was on the old covered bridge the summer before her freshman year with her boyfriend of three years, Ethan Keys. But her last kiss--the one she shared with someone at her seventeenth birthday party the night she died--is a blur. Cassidy is trapped in the living world, not only mourning the loss of her human body, but left with the grim suspicion that her untimely death wasn't a suicide as everyone assumes. She can't remember anything from the weeks leading up to her birthday and she's worried that she may have betrayed her boyfriend.
If Cassidy is to uncover the truth about that fateful night and make amends with the only boy she'll ever love, she must face her past and all the decisions she made--good and bad--that led to her last kiss.
Bethany Neal's suspenseful debut novel is about the power of first love and the haunting lies that threaten to tear it apart.
Yesterday: Annie Cosby, author of Learning to Swim. Tomorrow: Sarah Raasch, author of Snow Like Ashes. Check out the schedule here.
GIVEAWAY!
- signed bookmarks
- open internationally
- contest ends January 2nd
- Bethany and I are NOT responsible for any lost or damaged package
- each entry will be checked. Daily entries requires different info/links every day. This will be checked as well so be honest!
- winner must respond on email notification within 48 hours or else we will pick another winner
a Rafflecopter giveaway