Of Scars and Stardust author, Andrea Hannah, shares us her obsessions, best time to write, things she do when she's stuck in writing, and others--on her very own 14 random facts!
Andrea Hannah
1. I used to collect unicorns when I was little. I never grew out of it.
2. I can only write in absolute darkness and silence.
3. I taught in Africa between semesters in college, and while I was there a monkey stole one of
my juice boxes, chugged it, and ran away. I have it on video.
4. Yellow is my favorite color.
5. I have a pug named Amos who is the most disobedient dog on the planet.
6. My husband and I met in high school.
7. Before I wrote Of Scars and Stardust, I wrote a book about people who could hop from dreams
to reality. I still kind of like that book.
8. I've had some kind of mishap in every country I've traveled to: lost train tickets in France,
emergency medical visit in South Africa, wrong guest house in Rwanda, on and on.
9. When I'm stuck with my writing, my favorite things to do are to go for a run outside or clean
up the leaves and branches around my backyard. Something about touching earth helps to
clear my head.
10. I dislike watermelon-flavored anything.
11. Both of my kids have something nature-related in their names.
12. If I've heard a book is emotional or scary, I always look up spoilers before I read it to
prepare myself.
13. I journal almost everyday.
14. I'm obsessed with the following things: robots, dinosaurs, old school Nintendo games,
horses, and astronomy. If any of those things show up in books or movies, I'm sold.
About the Author
Andrea Hannah lives in the Midwest, where there are plenty of dark nights and creepy cornfields to use as fodder for her next thriller. She graduated from Michigan State University with a degree in special education. When she's not teaching or writing, she spends her time running, traveling, and attempting to keep her pug out of the refrigerator (unsuccessful to date).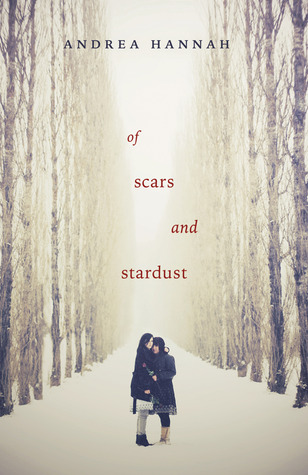 Of Scars and Stardust
Published October 8th 2014 by Flux
Blurb (Goodreads):
After her little sister mysteriously vanishes, seventeen-year-old Claire Graham has a choice to make: stay snug in her little corner of Manhattan with her dropout boyfriend, or go back to Ohio to face the hometown tragedy she's been dying to leave behind.
But the memories of that night still haunt her in the city, and as hard as she tries to forget what her psychiatrist calls her "delusions," Claire can't seem to escape the wolf's eyes or the blood-speckled snow. Delusion or reality, Claire knows she has to hold true to the most important promise she's ever made: to keep Ella safe. She must return to her sleepy hometown in order to find Ella and keep her hallucinations at bay before they strike again. But time is quickly running out, and as Ella's trail grows fainter, the wolves are becoming startlingly real.
Now Claire must deal with her attraction to Grant, the soft-spoken boy from her past that may hold the secret to solving her sister's disappearance, while following the clues that Ella left for only her to find. Through a series of cryptic diary entries, Claire must unlock the keys to Ella's past—and her own—in order to stop another tragedy in the making, while realizing that not all things that are lost are meant to be found.
Yesterday: Sara Raasch, author of Snow Like Ashes. Tomorrow: Courtney C. Stevens, author of Fakin
g Normal. Check out the schedule here.

Edit 12/20/14: Oops! Looks like I've forgotten to add something...


GIVEAWAY!
- signed copy of Of Scars and Stardust
- contest ends January 6th
- Andrea and I are NOT responsible for any lost or damaged package
- each entry will be checked. Daily entries requires different info/links every day. This will be checked as well so be honest!
- winner must respond on email notification within 48 hours or else we will pick another winner
a Rafflecopter giveaway