Celebrating Debutantes 2014 day 3: Say hello to the author of Alienated, Melissa Landers!
Melissa Landers
1. What's the best thing that happened after your book was published?
Definitely connecting with fans. I've met so many fabulous readers, and they never cease to amaze me with the depth of their enthusiasm for Aely
x and Cara's story. It warms my heart to see people who love my characters as much as I do.
2. How did you celebrate the publishing of your book?
I held a book launch at Joseph-Beth Booksellers in Cincinnati, complete with cake and champagne. Unfortunately, an ice storm decided to crash the party, so we had to cut it short, but a good time was still had by all! I hope to schedule a similar event for the release of INVADED in February.
3. When is your best time to write?
I write all day, but I've found that I *have* to get started in the morning if I want to make any significant progress, otherwise I can't generate enough momentum to keep going.
4. Do you read reviews of your book?
NOOOOOOOOO, not anymore. I'm happiest when I ignore reviews and focus on my current project.
5. What is your best or most unforgettable moment with a fan?
A fan traveled all the way from Colorado to Ohio for one of my summer signings...AND she baked alien cookies for me! I'll never forget that. It made me feel so special.
6. Was there any book/s from other debut author of 2014 that you loved?
Oh, yes. Far too many to mention.
7. Are you interested in writing in a different genre or for a different audience?
I actually have written in a different genre, but now I'm slowing down to focus on YA. (I've published several adult contemporary romances under a pen name, but they're VERY adult. Not for teens!)
8. Share us one embarrassing moment you've had.
Just a few months ago, I fell down the stairs in front of a bunch of librarians at the ALA conference in Vegas. That was horrifically embarrassing.
9. Favorite color?
Favorite movie?
Depends on my mood. I have different favorites in comedy, drama, romance, sci-fi, action/adventure, etc. I'm a sucker for old school romantic comedies, especially starring Meg Ryan. (Like "French Kiss" and "You've Got Mail.")
Favorite ice cream flavor?
Again, it depends on my mood. If you're holding a gun to my head, I guess I'd choose Cookies and Cream.
Favorite song?
My favorite songs don't last long, because I'll binge-listen until I can't stand to hear them anymore.
Ultimate celebrity crush (dead or alive)?
This is easy. Harrison Ford.
10. What's next for you?
I just finished a standalone sci-fi romance for Disney, tentatively titled STARFLIGHT, which is set to release in 2016. It's about an orphan who indentures herself to a rich jerk in exchange for passage to a new world aboard a luxury spaceliner. But when he temporarily loses his memory, she convinces him that their roles are reversed--that she's the master and he's the servant--and leads him onto a ship full of fugitives. Romantic hijinks and intergalactic misadventures ensue. If that sounds like your cup of tea, you can add it on Goodreads: https://www.goodreads.com/book/show/21793182-starflight
About the Author
Melissa Landers is a former teacher who left the classroom to pursue other worlds. A proud sci-fi geek, she isn't afraid to wear her Princess Leia costume in public—just ask her husband and three kids. She lives just outside Cincinnati and writes adult contemporary romance as Macy Beckett.
I'm sure you've heard of her debut novel!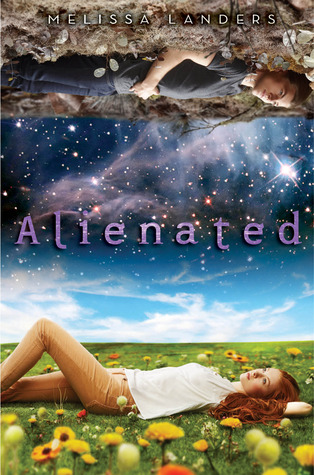 Alienated
Published February 4th 2014 by Disney Hyperion
Blurb (Goodreads):
Two years ago, the aliens made contact. Now Cara Sweeney is going to be sharing a bathroom with one of them.
Handpicked to host the first-ever L'eihr exchange student, Cara thinks her future is set. Not only does she get a free ride to her dream college, she'll have inside information about the mysterious L'eihrs that every journalist would kill for. Cara's blog following is about to skyrocket.
Still, Cara isn't sure what to think when she meets Aelyx. Humans and L'eihrs have nearly identical DNA, but cold, infuriatingly brilliant Aelyx couldn't seem more alien. She's certain about one thing, though: no human boy is this good-looking.
But when Cara's classmates get swept up by anti-L'eihr paranoia, Midtown High School suddenly isn't safe anymore. Threatening notes appear in Cara's locker, and a police officer has to escort her and Aelyx to class.
Cara finds support in the last person she expected. She realizes that Aelyx isn't just her only friend; she's fallen hard for him. But Aelyx has been hiding the truth about the purpose of his exchange, and its potentially deadly consequences. Soon Cara will be in for the fight of her life—not just for herself and the boy she loves, but for the future of her planet.