Merry Christmas! Even though its holidays, debutantes event is still ongoing (well, except for the major dates). Here's my featured debut author day after Christmas, Amy Finnegan!
1. I've worn the wedding ring of a member of the British Royal Family (hint: she was married to the Queen's son). I went to dinner with her once and commented on how beautiful it was, so she said: "Here! Try it on!"

2. If I could go back in time, I would read more books as a teenager (I was way too distracted by boys! But now I just consider all of the crushes, drama, and heartaches they gave me as research.)

3. I think baby goats are the cutest animals ever. I would buy one, but I like my clothes, shoes, furniture, and laptop too much.

4. I love sauerkraut and Boston Baked Beans. But I doubt I would like them together.

5. I have two actual teenagers of my own, neither of which is as easily controlled as my fictional teenagers. But I love them anyway (and again: RESEARCH!) ;)

6. I am allergic to chocolate. It gives me severe migraines and my throat closes off. Saddest allergy ever :(

7. While we're on the topic of throats and food, Dr. Henry Heimlich stated in a letter to me from Xavier University that, as of 1986, I am the youngest person on record to have saved someone's life with the Heimlich Maneuver. I was four. #legit

8. I sometimes have nightmares in which my husband does something really rude or stupid, and then I wake up mad at him. He does not understand this.

9. If I could choose just one literary character to be a real person, it would be Harry Potter. I hope I can one day create a character whom I love even half as much (though in truth, I would rather kiss one of my own fictional characters. Harry is a little awkward with that stuff).

10. My husband just read #8 and is wondering why those thoughts led me to #9. Like I said, he does not understand.

11. I hate driving in snowstorms! I was once lost for fifteen minutes in a whiteout before I realized I was right in front of my own house.

12. When I was a little girl, I did not aspire to be a published author. I wanted to be a secretary when I grew up. At least I'm living the typing part of that elusive dream, but I'd still like one of those little desk intercoms.

13. I think there should be a worldwide ban on salting sidewalks. Snails are adorable. Stop the slaughter.

14. In real life, my husband makes it easy for me to create hot guys for my novels. Guys who are also smart, nice, work hard, and treat girls with respect. Guys who make you insanely happy and never cease to make you laugh. All I have to do is model love interests after the boy sitting right next to me, and I have a perfect heartthrob. For example: I had already revised my debut novel a few times before I realized that the love interests meet in almost the exact way that I met my husband. I had been working at a new job for just a couple of days when we first spoke (though I had definitely noticed him before then), and we talked a lot. When the workday was over, I was waiting for my ride when my husband offered to give me a ride home instead. I'm not encouraging you to jump into a near-stranger's car (!!!), but I do find it funny that I wrote this same scenario into NOT IN THE SCRIPT without even noticing that I'd done so. True love shows up in the most unexpected places.
Amy Finnegan writes her own stories because she enjoys falling in love over and over again, and thinks everyone deserves a happy ending. She likes to travel the world—usually to locations where her favorite books take place—and owes her unquenchable thirst for reading to Jane Austen and J.K. Rowling. Her debut novel, NOT IN THE SCRIPT (Bloomsbury, Oct 2014), came about after hearing several years of behind-the-scenes stories from her industry veteran brother. She's also been lucky enough to visit dozens of film sets and sit in on major productions such as Parks and Recreation, and Parenthood.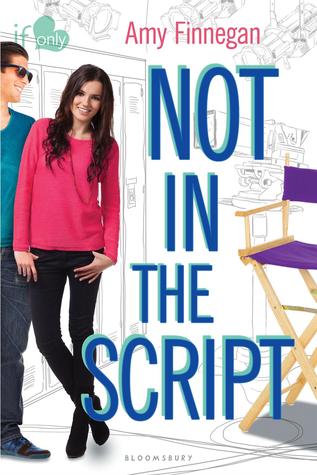 Published October 7th 2014 by Bloomsbury USA Childrens
Millions of people witnessed Emma Taylor's first kiss—a kiss that needed twelve takes and four camera angles to get right. After spending nearly all of her teen years performing on cue, Emma wonders if any part of her life is real anymore . . . particularly her relationships.

Jake Elliott's face is on magazine ads around the world, but his lucrative modeling deals were a poor substitute for what he had to leave behind. Now acting is offering Jake everything he wants: close proximity to home; an opportunity to finally start school; and plenty of time with the smart and irresistible Emma Taylor . . . if she would just give him a chance.

When Jake takes Emma behind the scenes of his real life, she begins to see how genuine he is, but on-set relationships always end badly. Don't they? Toss in Hollywood's most notorious heartthrob and a resident diva who may or may not be as evil as she seems, and the production of Coyote Hills heats up in unexpected—and romantic—ways.

This novel in the deliciously fun If Only romance line proves that the best kinds of love stories don't follow a script.
Last Tuesday: Rebecca Yarros, author of Full Measures. Tomorrow: Joy N. Hensley, author if Rites of Passage. Check out the schedule here.
- signed hardcover of Not in the Script + swag
- open internationally
- contest ends January 10th
- each entry will be checked. Daily entries requires different info/links every day. This will be checked as well so be honest!
- winner must respond on email notification within 48 hours or else we will pick another winner
a Rafflecopter giveaway