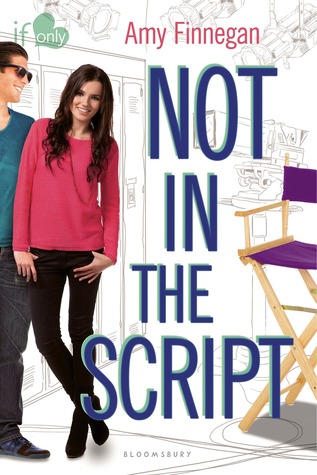 Genre: YA, contemporary, romance
October 7th 2014 by Bloomsbury USA Childrens
Purchase: Amazon
* Barnes and Noble * Book Depository
Blurb (Goodreads):
Millions of people witnessed Emma Taylor's first kiss—a kiss that needed twelve takes and four camera angles to get right. After spending years performing on cue, Emma can't help but wonder if any part of her life is real anymore . . . particularly her romances. She's been burned by heartthrobs (and the press) one too many times, but there's something about Emma's co-star on her new TV show Coyote Hills that is irresistible. Jake Elliott is gorgeous, smart and actually cares about Emma's charitable foundation. But she's sworn off on-set relationships. They always end badly . . . don't they?
This third novel in the deliciously fun If Only romance line proves that the best kinds of love stories don't follow a script.
My Thoughts:
I'm so excited to found out the author--Amy Finnegan--has sent me a copy of this book! I have my eyes on If Only books ever since I saw them. It was a great bonus that I get to know Amy more (you will too, soon) and get my book signed! :D
Emma Taylor has been in front of the camera all her life. It captured her growing up, acting or not. And yes, including her love life. Her history with gorgeous actors didn't went well and it created a bad image on her. So when a new TV series comes up, she set her limits about dating her co-stars. Including Brett Crawford, her ultimate celebrity crush (and her laptop wallpaper), and smart and thoughtful Jake Elliott.
I've read some novels about Hollywood but none of them gave me this kind of story before. The characters are famous celebrities, but the story of this book is about their personal lives. I love that most of the scenes were off cam. It's like I've got a VIP pass on Hollywood and saw the lives of celebrities. This is what fangirls dream the most!
I love that the book-and-TV characters became friends even on their first meeting. And even though Kimmi, a new actress, could be a total B and Brett turned out to be an air-head, I found myself laughing at their banters. I almost thought/hoped they'd end up together. I love Emma and Jake's friendship too, and the progress of their relationship. They are so comfortable with each other that they don't talk about being a celebrity. I really liked Jake! I like how humble he is and just so normal. He's a perfect gentleman as well and a girl would want for in a boyfriend! He's a total package. There was only one time where I got disappointed in him, where he had a little faith in Emma. Emma on the other one, is the kind of person anyone would be cool with. She's nice, funny, and totally normal as well.
I love the characters--they are easy to relate to, the progress of the story, and the ending...well, I'm not contented. Because I want Emma and Jake's relationship announced to the world! :P The tone of the book is light, cute, and fluffy. One thing I noticed were the italic words. There were a lot of them actually, some I don't think necessary. But that does not change the fact that this book is so sweet and enjoyable. I really like every second of it!
Not in the Script is gorgeously cute and romantic! The cover says it all. I recommend this book to Hollywood fangirls (you'd want this amazing behind-the-scenes experience, told in a YA novel!), contemporary romance fans, and everyone who wants something fun and make their day brighter. ;)
*Thank you so much Amy Finnegan for the review copy in exchange of an honest review!
Rating: