It's Extraction author Stephanie Diaz's turn to share her 14 random facts on Celebrating Debutantes 2014!
Stephanie Diaz
2. Stargazing is my favorite.
4. I finished my first full-length novel at age 12.
5. I have a partially metal jaw. (So technically I'm part cyborg.)
6. I can't whistle for the life of me.
7. I hold a serious grudge against spiders.
8. Sea otters and bears are my favorite animals.
10. I can't stand coffee but I love tea.
11. Taylor Swift is my jam.
(Comment: Super cool! Mine too. Hehe)
12. I'd totally go to outer space if given the opportunity.
About the Author
Stephanie recently graduated summa cum laude from San Diego State University. She wrote EXTRACTION when she should've been making short films and listening to class lectures.
When she isn't lost in other worlds, she can be found singing, marveling at the night sky, or fangirling over Doctor Who and Supernatural.
Check out Stephanie's debut novel!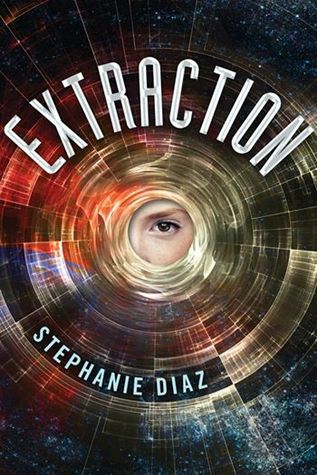 Extraction
Published July 22nd 2014 by St. Martin's Griffin
Blurb (Goodreads):
"Welcome to Extraction testing."
Clementine has spent her whole life preparing for her sixteenth birthday, when she'll be tested for Extraction in the hopes of being sent from the planet Kiel's toxic Surface to the much safer Core, where people live without fear or starvation. When she proves promising enough to be "Extracted," she must leave without Logan, the boy she loves. Torn apart from her only sense of family, Clem promises to come back and save him from brutal Surface life.
What she finds initially in the Core is a utopia compared to the Surface—it's free of hard labor, gun-wielding officials, and the moon's lethal acid. But life is anything but safe, and Clementine learns that the planet's leaders are planning to exterminate Surface dwellers—and that means Logan, too.
Trapped by the steel walls of the underground and the lies that keep her safe, Clementine must find a way to escape and rescue Logan and the rest of the planet. But the planet leaders don't want her running—they want her subdued.
With intense action scenes and a cast of unforgettable characters, Extraction is a page-turning, gripping read, sure to entertain lovers of Hunger Games and Ender's Game and leave them breathless for more.
Yesterday: Kat Ellis, author of Blackfin Sky. Tomorrow: Kendall Kulper, author of Salt and Storm. Check out the schedule here.
GIVEAWAY!
- signed hardcover of Extraction
- open to US and Canada only
- Stephanie and I are NOT responsible for any lost or damaged package
- each entry will be checked. Daily entries requires different info/links every day. This will be checked as well so be honest!
- contest ends December 28th
- winner must respond on email notification within 48 hours or else we will pick another winner