Kristin Rae, author of Wish You Were Italian shares facts about her from her first grade up to present!
Krisytin Rae
1. Though WISH YOU WERE ITALIAN follows Pippa as she travels to Italy alone, I'm not that brave. To this day I've never flown anywhere without one of my parents or my husband.
2. In second grade I was obsessed with The Little Mermaid movie. So much so, I spent many hours daydreaming my life as a mermaid. But I wasn't going to live in the ocean like the other mermaids, oh no. I mapped out an elaborate water tank system through my elementary school so I could get to class. Upstairs. It never would have worked.
3. Also in second grade, I would volunteer to take the empty jar of rubber cement to the front office for a refill because I liked to open the jar and smell it on the way. Maybe that's why I thought I could turn into a mermaid....
4. Speaking of second grade, my handwriting hasn't improved since then. At all.
5. I've never eaten Spam.
6. But I have eaten a Hershey kiss with ranch dip. It was a dare. It was disgusting.
7. When I was young I had a miniature horse. Sometimes I still have nightmares that I've forgotten to feed him for like a week.
8. For my 30th birthday I went to the Universal theme parks in Orlando with my dad and my grandmother (the only people in my family that can handle thrill rides). I bought a Minion (from Despicable Me) plush toy, named him Kevin, and took pictures of him all over the parks. We try to have a mascot on all of our trips.
9. I never wanted to be a cheerleader, but my best friend was the head cheerleader at our school. I had her teach me the dances in secret, just because.
10. I used to have a silver crown over one of my teeth, and when I was ten years old, it came off while I was chewing gum. I bit it and it was like scraping your teeth against a metal fork. Gives me chills just remembering it.
11. In first grade I picked a purple petal off a Viola flower and put it in my pocket so I could rub my fingers across the velvety softness. It turned the tips of my fingers purple and I was so scared it was permanent. I cried when my mom came to pick me up because I thought she'd be mad. She wasn't. And it washed off.
12. I enjoy mundane, repetitive tasks like stuffing envelopes or folding brochures. That wasn't sarcasm. I really do like it.
13. I over-share when I'm nervous.
14. Just because I'm a published author doesn't mean I'm a whiz at grammar. I have been known to sing School House Rock: Grammar Rock songs to help myself. "It was a HAIRY bear. It was a SCARY bear!" I actually use the math songs as lot as well. Educational shows for children WORK!
About the Author
Lover of books, music, chocolate, and crafty things. My young adult contemporary debut WISH YOU WERE ITALIAN is out now, and WHAT YOU ALWAYS WANTED is coming early 2016, both from Bloomsbury. Represented by Marietta Zacker of the Nancy Gallt Literary Agency.
Kristin's debut book is part of If Only series from Bloomsbury!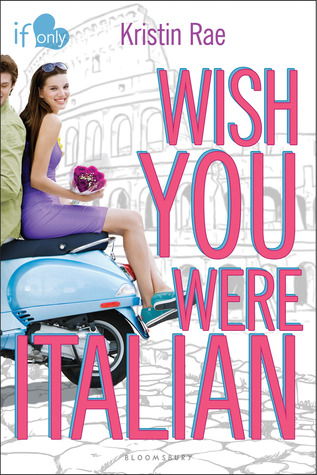 Wish You Were Italian
Published May 6th 2014 by Bloomsbury
Blurb (Goodreads):
Pippa has always wanted to go to Italy … but not by herself. And certainly not to sit in art school the entire summer learning about dead guys' paintings. When she steps off the plane in Rome, she realizes that traveling solo gives her the freedom to do whatever she wants. So it's arrivederci, boring art program and ciao, hot Italian guys!
Charming, daring, and romantic, Bruno is just the Italian Pippa's looking for—except she keeps running into cute American archeology student Darren everywhere she goes. Pippa may be determined to fall in love with an Italian guy … but the electricity she feels with Darren says her heart might have other plans. Can Pippa figure out her feelings before her parents discover she left the program and—even worse—she loses her chance at love?
Last Saturday: Kendall Kulper, author of Salt and Storm. Tomorrow: Annie Cosby, author of Learning to Swim. Check out the schedule here.