Get to know more about Sara Raasch, author of Snow Like Ashes!
Sara Raasch
1. What's the best thing that happened after your book was published?
Readers! Having people read my weird little story and get to know characters that have for so long existed only in my head has been by and far the most amazing thing. Meeting readers at events, talking with people online -- it's incredible, and I am so amazingly lucky to have such an awesome fanbase!
2. How did you celebrate the publishing of your book?
3. When is your best time to write?
The morning. I usually write for a few hours then break for lunch and do other non-writing-related work in the afternoon.
4. Do you read reviews of your book?
I read the trade reviews and I read some of the blogger reviews, but I try not to. It's not a good use of time -- especially when I have Book 3 to get out!
5. What is your best or most unforgettable moment with a fan?
During my recent tour, I had a number of stops where readers traveled from super far away to come. A few at my Dayton stop drove 4+ hours to get there, and one at my NYC stop made her mom take a few different buses to come. It's so humbling and incredible to know people are that excited for SNOW LIKE ASHES! I still have a hard time wrapping my brain around it.
6. Was there any book/s from other debut author of 2014 that you loved?
I'm part of a blog group, the Valentines, that includes thirteen other 2014 debuts. All of their books are amazing, and they span a wide array of genres -- all YA, but contemporary, sci-fi, fantasy, etc.
7. Are you interested in writing in a different genre or for a different audience?
I have a sci-fi idea, and I think someday I'd like to try my hand at adult. But for now, I'm firmly in the YA world!
8. Share us one embarrassing moment you've had.
When I'm reading and someone tries to talk to me, oftentimes I'll say whatever I'm reading out loud in response to whatever the other person says. For instance, my husband was recently trying to figure out our weekend plans as I was reading SEVEN LETTERS FROM PARIS by Samantha Verant, and when he asked what I'd like to do, I started to say "Fight for love" (a line from the book). He blinked at me, laughed, and I'm pretty sure I turned five shades of red.
9. Favorite color?
Favorite movie?
I like TV shows more than movies, so I'll cheat and say my favorite TV show: Lost Girl. It's a Canadian urban fantasy that is severely, epically, and all-encompassingly INCREDIBLE. Everyone should watch it.
Favorite ice cream flavor?
I'm allergic to whey, so no ice cream for me!
Favorite song?
At the moment? This changes daily ;) Dust & Gold by Arrows to Athens. It perfectly encapsulates some pretty intense feels for Books 2 & 3!
Ultimate celebrity crush (dead or alive)?
OH GOD. Tough questions! My current celebrity crush is a tie between Mads Mikkelsen (a Danish actor who is, in my head, Sir from SNOW LIKE ASHES) and Ksenia Solo (who plays the jaw-droppingly badass Kenzi on Lost Girl).
10. What's next for you?
Book 2 just went to copy edits and I'm drafting Book 3. The trilogy will soon be complete!
About the Author
Sara Raasch has known she was destined for bookish things since the age of five, when her friends had a lemonade stand and she tagged along to sell her hand-drawn picture books too. Not much has changed since then -- her friends still cock concerned eyebrows when she attempts to draw things and her enthusiasm for the written word still drives her to extreme measures. Her debut YA fantasy, SNOW LIKE ASHES, is coming out Fall 2014 from Balzer + Bray. It does not feature her hand-drawn pictures. She is represented by Charlotte Sheedy Literary.
Check out Sara's YA fantasy debut book!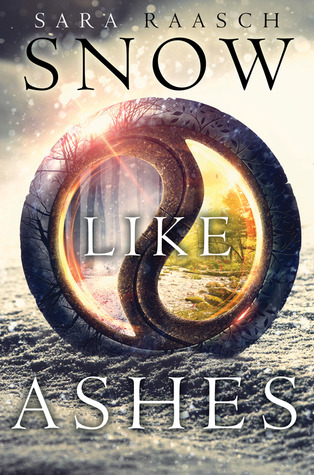 Snow Like Ashes
Published October 14th 2014 by Balzer + Bray
Blurb (Goodreads):
A heartbroken girl. A fierce warrior. A hero in the making.
Sixteen years ago the Kingdom of Winter was conquered and its citizens enslaved, leaving them without magic or a monarch. Now, the Winterians' only hope for freedom is the eight survivors who managed to escape, and who have been waiting for the opportunity to steal back Winter's magic and rebuild the kingdom ever since.
Orphaned as an infant during Winter's defeat, Meira has lived her whole life as a refugee, raised by the Winterians' general, Sir. Training to be a warrior—and desperately in love with her best friend, and future king, Mather — she would do anything to help her kingdom rise to power again.
So when scouts discover the location of the ancient locket that can restore Winter's magic, Meira decides to go after it herself. Finally, she's scaling towers, fighting enemy soldiers, and serving her kingdom just as she's always dreamed she would. But the mission doesn't go as planned, and Meira soon finds herself thrust into a world of evil magic and dangerous politics – and ultimately comes to realize that her destiny is not, never has been, her own.
Yesterday: Bethany Neal, author of My Last Kiss. Tomorrow: Andrea Hannah, author of Of Scars and Stardust. Check out the schedule here.