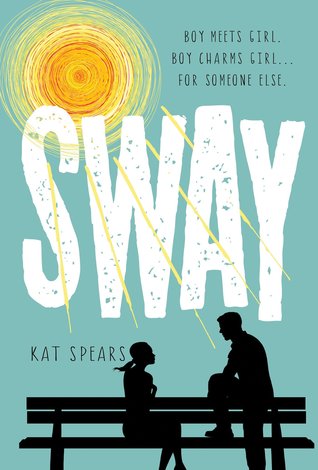 Genre: YA, contemporary, romance
Published September 16th 2014 by St. Martin's Griffin
Purchase: Amazon
* Barnes and Noble * Book Depository
Blurb (Goodreads):
In Kat Spears's hilarious and often poignant debut, high school senior Jesse Alderman, or "Sway," as he's known, could sell hell to a bishop. He also specializes in getting things people want---term papers, a date with the prom queen, fake IDs. He has few close friends and he never EVER lets emotions get in the way. For Jesse, life is simply a series of business transactions.
But when Ken Foster, captain of the football team, leading candidate for homecoming king, and all-around jerk, hires Jesse to help him win the heart of the angelic Bridget Smalley, Jesse finds himself feeling all sorts of things. While following Bridget and learning the intimate details of her life, he falls helplessly in love for the very first time. He also finds himself in an accidental friendship with Bridget's belligerent and self-pitying younger brother who has cerebral palsy. Suddenly, Jesse is visiting old folks at a nursing home in order to run into Bridget, and offering his time to help the less fortunate, all the while developing a bond with this young man who idolizes him. Could the tin man really have a heart after all?
A Cyrano de Bergerac story with a modern twist, Sway is told from Jesse's point of view with unapologetic truth and biting humor, his observations about the world around him untempered by empathy or compassion---until Bridget's presence in his life forces him to confront his quiet devastation over a life-changing event a year earlier and maybe, just maybe, feel something again.
My Thoughts:
Let me use this opportunity to share this. Whenever I read the title of this book, the song that was also called Sway by Bic Runga plays into my mind (and I'll eventually sing). And after reading, I realized that the song fits the book well. Combine the really cute cover and the romantic melody of the song--you'll get the ultimate Sway book feel.
To say that I really want to read this book is an understatement. When I first saw Sway, I immediately wanted to read it. Yes, I admit that I fell head over heels on that pretty cover, but the book description sold me as well. I want it so much that I almost drool when I held my copy. I guess you know what I mean. It was just amazing that I wasn't disappointed on the outcome.
Sway was told in Jesse's POV. It was refreshing to read a really cute-looking novel on a guy's POV. Jesse, a.k.a Sway, is a bad guy. D
rug dealer, emotionless, and the person everyone can hire to get something or someone they want to have.
Bad with a mean-but-funny sense of humor. I don't like his bad side but I love the way he cares for his friends. I love his conversation especially with Pete (Bridget's--the love interest--brother). I think I fell in love in their friendship.
Speaking of his friendship with Pete...I realized that Jesse had more interactions with Pete than Bridget. That's the only thing I found lacking--the interaction and romance development between Bridget and Jesse. I expected a tragic but romantic story based from the prologue, like A Walk to Remember or something like that. But w
hen I think about it, the romance doesn't seem like the focus of the story, it's more like about Jesse. It does have a satisfying ending and was actually sweet. I just hope there was more swoon-worthy scenes in order to feel and bring out the romance more. I really liked it, nevertheless.
Sway is feel-good novel about friendship and learning and letting yourself feel and be loved. It's a hilarious and cute romance read. I would recommend this to contemporary and romance readers and everyone who wanted a chill read. ;)
*Warning: This book contains foul languages. I can assure you it's clean romance, though.
*Thanks to Macmillan International for the review copy of this book in exchange of an honest review! I also received an e-galley of this from Netgalley and St. Martin's. Thank you!
Rating: