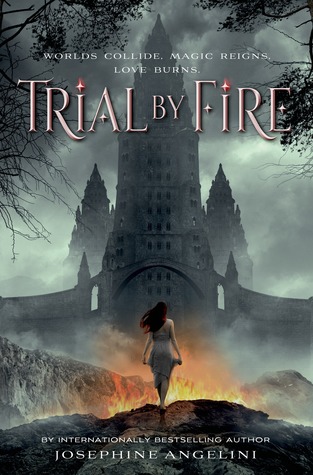 Series: The Worldwalker Trilogy #1
Genre: YA, fantasy/paranormal
Published September 2nd 2014 by Feiwel & Friends
Blurb (Goodreads):
This world is t
rying to kill Lily Proctor. Her life-threatening allergies keep her from enjoying experiences that others in her hometown of Salem take for granted, which is why she is determined to enjoy her first high school party with her best friend and longtime crush, Tristan. But after a humiliating incident in front of half her graduating class, Lily wishes she could just disappear.
Suddenly, Lily is in a different Salem—one overrun with horrifying creatures and ruled by powerful women called Crucibles. Strongest and cruelest of them all is Lillian . . . Lily's other self in this alternate universe.
What makes Lily weak at home is what makes her extraordinary in New Salem. In this confusing world, Lily is torn between responsibilities she can't hope to shoulder alone and a love she never expected.
My Thoughts:
Lily doesn't have a life that anyone would want to have. She have a life-threatening allergies and become isolated because of it. That's why it's easy for her to want a life where she's strong and powerful...until she finally does. Lily found herself in her same but different hometown, Salem. She's still her, and her sister is still her sister but also somewhat different. And everyone treats her differently. An alternate world.
The first thing I loved about this book was the idea of alternate world and being sent there. You might have read or watched stories like that, but not me. It was my first time to encounter alternate worlds in a book with the same characters on each world. I love this concept and how tricky and clever it all turned out. I also like the world building--the way the author played on this world she wanted to be. Of course it has a huge part in the story, which made everything exciting and dangerous and mysterious.
I like Lily. She's the kind of character you'd easily be comfortable with. I like her strength without making it look like trying hard. I like her ability to make other characters--even me--laugh or just feel light. She's as light as a feather but as fierce as an eagle. Rowan didn't first appeared as your book knight because he wasn't one in the beginning. But I like how I get to know him as his character unravels bit by bit. I also love the progression of Lily and Rowan's relationship from strangers to friendship to something more. This kind of romance is one of the hard love stories I've ever read. Because they live in alternate worlds. I'm excited to find out how Josephine Angelini will work on this as I read the continuation of the story on the second and third book.
I really like Trial by Fire. It has a lot of elements that made me love it. The concept, world building, characters, plot, and its uniqueness. Unfortunately, I had a little problem with my reading progress. I read the last 1/4 of the book in bits (talk about busy) that's why I wasn't able to have huge feels like the thrill of action and romance. I end up flat affect in the ending. I wouldn't deny the epic story, though. It's just on my side. I'm also not a fan of the 'original world' story or the contemporary side in the beginning. Still, Trial by Fire is rockin' awesome. I'm excited to find out what really Lilian's--the real Lily in the alternate (magic) world--plans are and just to be in this world again.
I recommend this book to fantasy, paranormal, and dystopian lovers. Fans of Maria V. Snyder would enjoy this too.
*Thank you so much Ruth and Macmillan International for the review copy in exchange of an honest review!
Rating: