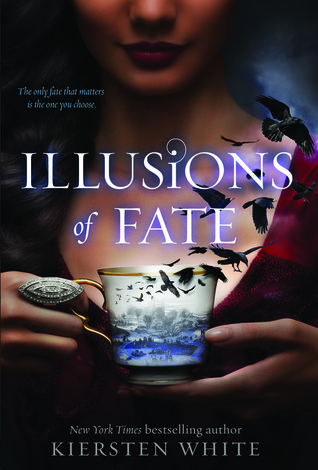 Genre: YA, historical, fantasy/paranormal
Published September 9th 2014 by HarperTeen
Purchase: Amazon
* Barnes and Noble * Book Depository
Blurb (Goodreads):
Downton Abbey meets Cassandra Clare in this lush, romantic fantasy from New York Times bestselling author Kiersten White.
"I did my best to keep you from crossing paths with this world. And I shall do my best to protect you now that you have."
Jessamin has been an outcast since she moved from her island home of Melei to the dreary country of Albion. Everything changes when she meets Finn, a gorgeous, enigmatic young lord who introduces her to the secret world of Albion's nobility, a world that has everything Jessamin doesn't—power, money, status…and magic. But Finn has secrets of his own, dangerous secrets that the vicious Lord Downpike will do anything to possess. Unless Jessamin, armed only with her wits and her determination, can stop him.
Kiersten White captured readers' hearts with her New York Times bestselling Paranormalcy trilogy and its effortless mix of magic and real-world teenage humor. She returns to that winning combination of wit, charm, and enchantment in Illusions of Fate, a sparkling and romantic new novel perfect for fans of Cassandra Clare, The Madman's Daughter, and Libba Bray.
My Thoughts:
*This review is based on advance reading copy. There might be some changes in finished copy.
This is probably my third Kiersten White book and though I still wasn't swayed, I like that she's trying out different genres, concepts, and publish one book per year. She writes a lot, I figured. I hope one day I'd come across a book from her that I'd deeply adore.
Illusions of Fate seemed to begin in a middle of a story and then everything happened so fast it's like a bird just swished by. I barely had time to learn more about the female main character
and narrator of the book
, Jessamin, and other characters in this book. Well, except for Eleanor. Jessamin's new found friend and best gossiper of their town. The romance was so fast too that I wasn't aware that they--Jessamin and Finn--have grown fond of each other. I was like, Wait. Did I miss something or is this how really romance was found from way back? Finn remained a mystery too until the end. He wasn't the kind of mysterious man that's exciting. It rather left me clueless.
Besides--or should I say, because of--the fast pace, I couldn't connect to the characters and whatever the story is trying to let the readers make feel or show. I do like some things about this book. Like Sir Bird. Sir Bird is a black bird that kept following Jessamin. Sir Bird is adorable one and I would love to have. He may be unfaithful to his real master, but he became faithful to what he know is good. I also like that he becomes something that I love! You'll know when you read this book.
Overall, Illusions of Fate is an okay book for me. The ending is predictable and I may have many complaints about this book but it's not entirely bad. It is still something worth reading. If you like a magical element set in the past and adorable pets in books, I recommend this book to you.
*Thanks to Megan and HarperCollins International for the review copy in exchange of an honest review!
Rating: