To play along, just answer the following three (3) questions…
• What are you currently reading?
• What did you recently finish reading?
• What do you think you'll read next?
Currently Reading:
I'm fnishing Words and their Meanings by Kate Bassett. I'm behind my reading progress again. If only I could control time. :(
Finished Reading:
I've finally read Unhinged by A.G Howard. I LOVE it! You can check out my review here.
Read Next:
Next up is Messenger of Fear by Michael Grant. I wasn't expecting this book from Hardie Grant Egmont but thank you!
Waiting On Wednesday is a weekly event, originally started by Jill at Breaking the Spine, that highlights upcoming book releases everyone is waiting on.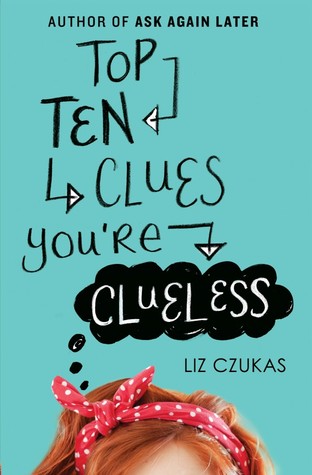 Top Ten Clues You're Clueless
Expected publication: December 9th 2014 by Harper Teen
Blurb (Goodreads):
Top Five Things That Are Ruining Chloe's Day
5) Working the 6:30 a.m. shift at GoodFoods Market
4) Crashing a cart into a customer's car right in front of her snarky coworker Sammi
3) Trying to rock the "drowned rat" look after being caught in a snowstorm
2) Making zero progress with her crush, Tyson (see #3)
1) Being accused—along with her fellow teenage employees—of stealing upwards of $10,000
Chloe would rather be anywhere than locked in work jail (aka the break room) with five of her coworkers . . . even if one of them is Tyson. But if they can band together to clear their names, what looks like a total disaster might just make Chloe's list of Top Ten Best Moments.
I enjoyed Liz's first book, Ask Again Later. I'm looking forward in reading more from her and this one sounds really cute! Love the cover, too.
Share your list of books for this week below!
Giveaway on the blog:
- 1 ecopy. Open INT. Ends September 20th.