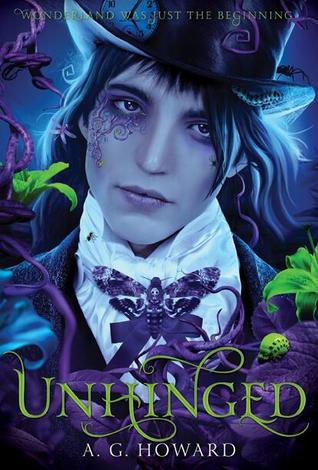 Genre: YA, fantasy, fairytale re-telling
Published December 17th 2013 by Scholastic Australia
Purchase: Amazon
* Barnes and Noble * Book Depository
Blurb (Goodreads):
Alyssa Gardner has been down the rabbit hole and faced the bandersnatch. She saved the life of Jeb, the guy she loves, and escaped the machinations of the disturbingly seductive Morpheus and the vindictive Queen Red. Now all she has to do is graduate high school and make it through prom so she can attend the prestigious art school in London she's always dreamed of.
That would be easier without her mother, freshly released from an asylum, acting overly protective and suspicious. And it would be much simpler if the mysterious Morpheus didn't show up for school one day to tempt her with another dangerous quest in the dark, challenging Wonderland—where she (partly) belongs.
As prom and graduation creep closer, Alyssa juggles Morpheus's unsettling presence in her real world with trying to tell Jeb the truth about a past he's forgotten. Glimpses of Wonderland start to bleed through her art and into her world in very disturbing ways, and Morpheus warns that Queen Red won't be far behind.
If Alyssa stays in the human realm, she could endanger Jeb, her parents, and everyone she loves. But if she steps through the rabbit hole again, she'll face a deadly battle that could cost more than just her head.
My Thoughts:
*Might be spoiler-y to those who haven't read Splintered yet.
Unhinged is the surprise sequel of the Alice's Adventures in Wonderland gothic retelling, Splintered. Splintered was originally a standalone novel but because of its brilliance, it was made into a trilogy. I LOVE Splintered so much, it's one of my best reads in 2013, and I was really excited when I found out that there will be a sequel and it has Morpheus on the cover!
Unfortunately, because of my crazy year and to-review books, I wasn't able to read
Unhinged
ASAP. Until Splintered and Unhinged Read-a-Long came. I decided to FINALLY read this book and maybe other fans and new readers could read with me too, so I hosted the read-a-long via
@AGHowardPH
.
When the time came that I was gonna read Unhinged (I've been sniffing the pages and adoring the design and plum-colored text), I felt somehow...scared. Even standalone, I greatly appreciated and contended on how Splintered ended. I realized then that I wasn't sure if I'd like to know what this book contains, what will happen to Alyssa, Jeb, and Morpheus, and I'm not prepared on whatever emotional mess this book might bring like the first one did. Will it be worth it? Or in the end, will I hope I never read this book?
After a year of her adventures on the real Wonderland, Alyssa thought she won't be coming back or have a peaceful life with her parents, Jeb, and her new art despite of the Wonderland memories and the presence of a certain someone--Morpheus. But it was just the beginning. Queen Red is back and Wonderland needs her. Only Alyssa can help to save both worlds.
Let me comment first on Morpheus. The one that bugged me the most. Morpheus, Morpheus, Morpheus! I'm crazy about this moth dude. Not the way I-love-him-so-much crazy, but why-are-you-being-like-this?! crazy. Morpheus drove me crazy first on Splintered. His motives and feelings for Alyssa seems so contradicting, I'm not sure who or what he really cares for. I did end up liking him and Jeb and I'm torn between them. I remembered I declared them as one of the best and worst love triangle ever because I both love these dudes and hate the feeling of one being left broken and alone. But Morpheus triggered my over-thinking brain.
Like I just said, I'm not sure what his real motives are. He lies a lot and it pisses me off. So does Alyssa. I noticed that all Alyssa gets annoyed with him more than having feelings for him. It seems that when he's away--physically--she doesn't have or think about her feelings for him (well, except when she remembers their past). When he's near (like, him teasing or seducing her), that's the only time she'll feel the attraction. When I think about it, I would say that it could be because he's a moth and a fae and it could all be about the fae's power to seduce. Well, that's just my theory.
Jeb, on the other hand, has won my heart a little more than Morpheus on Splintered. But it didn't grew since I barely feel him on this book. I guess because it's Morpheus on the cover, it should be mostly about him. And Ensnared must be [mostly] about Jeb since it's in him on the cover. Again, my theory. I cannot wait until I read that book, though. I can't wait to learn more about Jeb--which I think there WILL be revelations.
I expected Alyssa will be back on Wonderland and imagined what may happen. But the entire book was spent in the real world with some creepiness and more twists, revelations, and madness. I am so relieved that this book wasn't a mess like I was afraid to happen. And t
he ending has just left me breathless and even more excited.
It was as amazing as
Splintered
. Yet, this one's fresher since it's more of Anita's imagination that continued from her twisted dark retelling of Lewis Carroll's Alice Adventures in Wonderland.
Unhinged started and ended with a flourish of A.G Howard's pretty words. Just like she did on Splintered. I've always adored her writing. Not only can she be a wordsmith but also a master in story-telling. Her characters lived in her art of writing. They become powerful because of how she string her words. And even if fantasy, they become realistic. I'm just in love with this series. Until now I'm on a hangover. Only Ensnared or Jeb or Morpheus can cure me. Imaginative, moving, emotional, magical, magnificent, beautiful--these words aren't enough to describe how perfect this series is. I would recommend it to everyone. I cross my fingers for a movie adaptation too.
Check out my review of the first book in this trilogy, Splintered.
Rating: