(Info)
To play along, just answer the following three (3) questions…
• What are you currently reading?
• What did you recently finish reading?
• What do you think you'll read next?
Currently Reading:
Am reading Finding Mr. Brightside by Jay Clark. This one's kinda different from other contemporary reads I had. A m
ixture of heavy and light.
Finished Reading:
I read another addition on my Best of 2015 list,
The Glass Arrow
by Kristen Simmons (
review
), a nerdy cbyerthriller,
Duplicity
by N.K Traver (
review
), and a high fantasy
A Darker Shade of Magic
by V.E Schwab (review / win a copy here).
Read Next:
Next up is The Storyspinner by Becky Wallace. I've been meaning to read this but I've done so many adjustments on my to-review sched so..
Waiting On Wednesday is a weekly event, originally started by Jill at Breaking the Spine, that highlights upcoming book releases everyone is waiting on.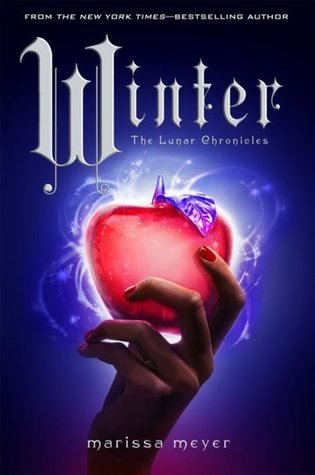 Winter
by Marissa Meyer
(The Lunar Chronicles #4)
Expected publication: November 10th 2015 by Feiwel and Friends
Blurb (Goodreads):
Here is the stunning conclusion to the national bestselling Lunar Chronicles, inspired by Snow White.
When Princess Winter was thirteen, the rumor around the Lunar court was that her glamour would soon be even more breathtaking than that of her stepmother, Queen Levana. In a fit of jealousy, Levana disfigured Winter. Four years later, Winter has sworn off the use of her glamour altogether. Despite her scars, Winter's natural beauty, her grace, and her gentleness are winning admiration from the Lunar people that no amount of mind-control could achieve.
Winter despises her stepmother, but has never dreamed of standing up to her. That is, until she realizes that she may be the only one with the power to confront the queen.
Can Cinder, Prince Kai, Scarlet, Wolf, Cress, Thorne, Princess Winter, and the palace guard Jacin find their happily ever afters? Fans will LOVE this amazing conclusion to the series.
This is it. THIS. IS. REALLY. IS. IT. Winter has finally a cover and a blurb. And now I'm just waiting impatiently for November to arrive. Freaking excited to dive into the 800 magical and phenomenal pages of the last installment of one of my favorite series, The Lunar Chronicles! *MAJOR FANGIRLING*
I reviewed Cinder, Scarlet, Cress, and Fairest on the blog.
How's your week been so far? Share your bookish cravings on the comments below!
P.S I've extended my giveaway of A Darker Shade of Magic by V.E Schwab! Enter here.