Hey everyone! Let me introduce to you the trailer for an upcoming YA sci-fi from Flux, Zeroboxer by Fonda Lee. Plus, get a chance to win an advance reader copy of the book and other titles!
Note from the author:
This isn't your usual book trailer. Instead, I wanted to share with you one of my favorite parts of writing Zeroboxer: envisioning and depicting the sport of zeroboxing. How would a combat sport work in the absence of gravity? Check out what these martial artists and fighters have to say about it.
Now check out the book and the reason why I'm also looking forward in reading it!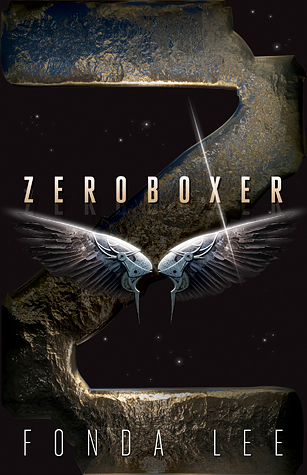 Zeroboxer
Expected publication: April 8th 2015 by Flux
Blurb (Goodreads):
A Sci-Fi Thrill Ride Set in the Action-Packed Sports Arena of the Future
A rising star in the weightless combat sport of zeroboxing, Carr "the Raptor" Luka dreams of winning the championship title. Recognizing his talent, the Zero Gravity Fighting Association assigns Risha, an ambitious and beautiful Martian colonist, to be his brandhelm––a personal marketing strategist. It isn't long before she's made Carr into a popular celebrity and stolen his heart along the way.
As his fame grows, Carr becomes an inspirational hero on Earth, a once-great planet that's fallen into the shadow of its more prosperous colonies. But when Carr discovers a far-reaching criminal scheme, he becomes the keeper of a devastating secret. Not only will his choices place everything he cares about in jeopardy, but they may also spill the violence from the sports arena into the solar system.
About the Author
Fonda Lee writes fantasy and science fiction for teens and adults. Her debut novel, ZEROBOXER, will be published by Flux on April 8, 2015. She is a former corporate strategist, avid martial artist, and an enthusiast of food, film, and books. She lives in Portland, Oregon.
GIVEAWAY!
- An advance reader copy of Zeroboxer, as well as The Oathbreaker's Shadow by Amy McCulloch, Wordless by AdriAnne Strickland, Insomnia by J.R. Johansson, The Culling by Steven dos Santos and Backward Glass by David Lomax
- the author, tour host, or I are not responsible for any lost or damaged packages