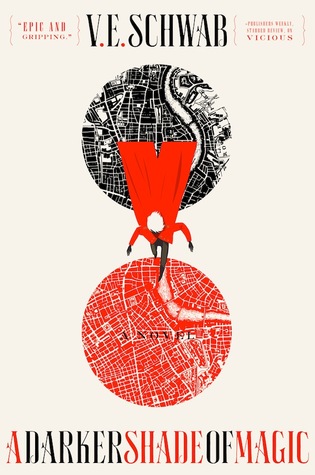 Series: A Darker Shade of Magic #1
Genre: YA/NA/adult, fantasy
Published February 24th 2015 by Tor Books
Purchase: Amazon
* Barnes and Noble
*
Book Depository
Blurb (Goodreads):
Kell is one of the last Travelers—rare magicians who choose a parallel universe to visit.
Grey London is dirty, boring, lacks magic, ruled by mad King George. Red London is where life and magic are revered, and the Maresh Dynasty presides over a flourishing empire. White London is ruled by whoever has murdered their way to the throne. People fight to control magic, and the magic fights back, draining the city to its very bones. Once there was Black London - but no one speaks of that now.
Officially, Kell is the Red Traveler, personal ambassador and adopted Prince of Red London, carrying the monthly correspondences between royals of each London. Unofficially, Kell smuggles for those willing to pay for even a glimpse of a world they'll never see. This dangerous hobby sets him up for accidental treason. Fleeing into Grey London, Kell runs afoul of Delilah Bard, a cut-purse with lofty aspirations. She robs him, saves him from a dangerous enemy, then forces him to another world for her 'proper adventure'.
But perilous magic is afoot, and treachery lurks at every turn. To save all of the worlds, Kell and Lila will first need to stay alive — trickier than they hoped.
My Thoughts:
First I thought the cover was an upside-down devil but when I took a closer look on the cover, I realized that it's actually a man jumping between two worlds. The red was the coat, brown--which I thought was the horn--was the legs, and the white was the hair. In case you've mistaken the cover to a different one as well. Trust me, I am not the only one. The next thing I noticed was the hype for this book and the author. I've never read any from V.E Schwab--but I'm familiar with her YA series The Archived--so I don't understand the hype yet. I wasn't convinced on reading this book, though, despite the hype. I don't think it's my thing (even though it's fantasy). But there's always a part of the bookish me that even though I am not really interested in a book, I have this inner thing that strongly urges me to read it. I'm holding on to the promise that this book is worth my time.
When I embraced the fact that I'm really going to read this book, I devoured that this book has uniqueness even from reading the blurb alone. It was a good impression to set even before I read it. When I finally got to read A Darker Shade of Magic, I am not surprised with the high and dark fantasy it proposed from the outside and shown on the inside. I admit that it took me long before I catch up on the vibe, tone, and pace of the book. I am the slow one this time. And when I did catch up, I saw the things that I really liked. Kell was a strong and--as I later on found out--protector and soft-hearted, especially when it comes to his 'brother'. I do like his strange magical coat too. I also like Lila. She's an unexpected and surprisingly good character. Stubborn like most female lead/supporting, clever, and witty. I cannot imagine this book without her.
I cannot deny the magnificent idea of multiple Londons. The world-building was the highlight of this book, along with Kell and his coat, and Lila. The way the Londons were described and used was clever and imaginative. I love that Victoria made a world where you can never compare or you've heard/seen before. The originality of this book was amazing. It wasn't a full-packed action novel like I envisioned but the mystery, the multiple Londons, and the eeriness of this book and the way it was written would make you entertained, curious, and devour each page.
A Darker Shade of Magic gave its all but when I closed the book, I knew that the author has more to offer on the next installment. Compelling, dark, and has characters you'd love. I am excited for the next book. I am really, really intrigued what will happen next! I am so glad I gave in from the strong urge to read this book. If I don't, I might not have read one of the most original book out there. Also, this book was categorized as 'adult' but it can also be read by YA/NA readers since the main characters aren't that old and well, I just don't see it as an adult novel alone.
*Thank you so much Tor Books for the review copy in exchange of an honest review! Win a copy here.
Rating: