Welcome, oh welcome, to my stop for A Darker Shade of Magic tour! I'm excited about this one because it's quite different from the tours I've been on. I am assigned on White London! Things you must check on this post: a one question answered by the author, the fantastic giveaway courtesy of Tor Books *wink, wink*, the book itself--and all the reasons why you should read this book!
Before anything else, I know you're curious.
What is White London? Why are there Red, White, and Grey Londons?
In A Darker Shade of Magic, Kell is one of the Travelers that flit through magical doors to visit three very different versions of London: Red London, White London, and Grey London. You can understand more about these three very different versions of London and the book itself below.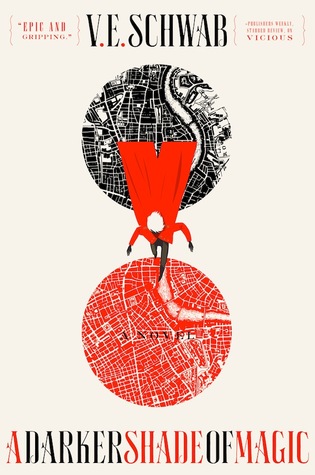 Series:
A Darker Shade of Magic #1
Genre: Adult, fantasy, paranormal
Published February 24th 2015 by Tor Books
Purchase: Amazon
* Barnes and Noble * Book Depository
Blurb:
Kell is one of the last Travelers—magicians with a rare,
coveted ability to travel between parallel universes,
connected by one magical city.
There's Grey London, dirty and boring, without any magic,
and with one mad king—George III. Red London, where life
and magic are revered—and where Kell was raised
alongside Rhy Maresh, the roguish heir to a flourishing
empire. White London—a please where people fight to
control magic and the magic fights back, draining the city to
its very bones. And once upon a time, there was Black
London. But no one speaks of that now.
Officially, Kell is the Red Traveler, ambassador of the Maresh empire, carrying
the monthly correspondences between the royals of each London. Unofficially, Kell is a
smuggler, servicing people willing to pay for even the smallest glimpses of a world
they'll never see. It's a defiant hobby with dangerous consequences, which Kell is now
Fleeing into Grey London, Kell runs into Delilah Bard, a cutpurse with lofty
aspirations. She first robs him, then saves him from a deadly enemy, and finally forces
Kell to spirit her to another world for a proper adventure.
Now perilous magic afoot, and treachery lurks at every turn. To save all of the worlds, they'll first need to stay alive.
Praises for A Darker Shade of Magic
My one question for V.E Schwab:
Describe A Darker Shade of Magic in one word that wasn't mentioned in the title or blurb.
V. E. SCHWAB's first adult novel, Vicious, debuted to critical praise and reader
accolades. Schwab is the author of YA novels The Near Witch, The Archived, and The
Unbound, and the Everyday Angel series for middle grade readers.
veschwab.wordpress.com. @VESchwab. Facebook. Goodreads.
- a copy of A Darker Shade of Magic AND a double-sided signed poster that features the US and UK covers!
- open internationally
- giveaway ends March 20th EXTENDING UNTIL MARCH 28TH!
- Tor Books and I are not responsible for lost or damaged packages
- stay honest with your entries--especially with daily entries. Make sure to enter a different info/link every day
- winner will have 48 hours to respond on the email notification or else, I'll be forced to pick another winner
Don't forget to follow the entire tour--which includes Red and Grey Londons, and other White London stops. Each participating blog has one question answered by Victoria and a separate giveaway! Ain't it cool?!
Thank you so much Tor Books for this fun opportunity!