(Info)
To play along, just answer the following three (3) questions…
• What are you currently reading?
• What did you recently finish reading?
• What do you think you'll read next?
Currently Reading:
Reading
Vendetta
by Catherine Doyle. I am also part of the Philippine blog tour. My stop's on the 5th (tomorrow)!
Finished Reading:
Read Frostfire by Amanda Hocking last (last?) week. Check out my review here.
Read Next:
Next up is The Dolls by Kiki Sullivan. My ARC was a surprise from the publisher. Thanks, Usborne! (The photo was from a different version.)
Waiting On Wednesday is a weekly event, originally started by Jill at Breaking the Spine, that highlights upcoming book releases everyone is waiting on.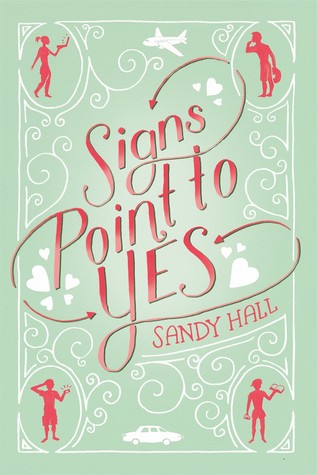 Signs Point To Yes
by Sandy Hall
Expected publication: October 20th 2015 by Swoon Reads
Blurb (Goodreads):
The author of A Little Something Different brings you the most adorkable romance ever.
Jane, a superstitious fangirl, takes an anonymous babysitting job to avoid an unpaid internship with her college-obsessed mom. The only problem? She's babysitting the siblings of her childhood friend and new crush, Teo.
Teo doesn't dislike Jane, but his best friend Ravi hates her, and is determined to keep them apart. So Teo's pretty sure his plans for a peaceful summer are shot. His only hope is that his intermittent search for his birth father will finally pan out and he'll find a new, less awkward home. Meanwhile, at Jane's house, her sister Margo wants to come out as bisexual, but she's terrified of how her parents will react.
In a summer filled with secrets and questions, even Jane's Magic 8 ball can't give them clear answers, but Signs Point to Yes.
YES, I admit that I'm smitten by the lovely cover (don't you?) but that's not the only reason why I'm excited to read this book. It's also because it is written by Sandy Hall. I really enjoyed her debut, A Little Something Different
! Plus, it looks cute, light, and romantic. Just what I wanted. :D
I was out last week so I wasn't able to do Wednesday post or other reviews/features. This week will be a busy week for my blog--actually, a busy month. The Escapist is fully booked!
Things you must check out was listed on the right hand sidebar, On The Blog and on the Calendar.
How was your reading pile? Let me know in the comments section!