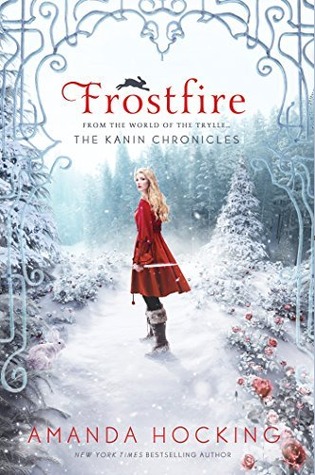 Series: Kanin Chronicles #1
Published January 6th 2015 by St. Martin's Griffin
Purchase: Amazon
* Barnes and Noble * Book Depository
Blurb (Goodreads):
Bryn Aven is an outcast among the Kanin, the most powerful of the troll tribes.
Set apart by her heritage and her past, Bryn is a tracker who's determined to become a respected part of her world. She has just one goal: become a member of the elite King's Guard to protect the royal family. She's not going to let anything stand in her way, not even a forbidden romance with her boss Ridley Dresden.
But all her plans for the future are put on hold when Konstantin– a fallen hero she once loved – begins kidnapping changelings. Bryn is sent in to help stop him, but will she lose her heart in the process?
My Thoughts:
When I first saw Frostfire, I immediately wanted to read it. It's a mixture of fantasy, royals, and a hint of angst--which I loved. I
t wasn't until I reached
page 12
, though,
when I realized that this book was related/from the world of Trylle [trilogy], Amanda Hocking's 2010 series. I freaked out because I haven't read the trilogy yet. But after the reassurance from Goodreads friends and Amanda herself, I dive back into
Frostfire
. So if you're like me, don't worry. It's safe to read this new series without reading
Trylle
. According to
Amanda
, she wrote it so new readers can enjoy it too.
Since it's not related, I'm going to focus on Kanin world only. Kanin is a kingdom/society of trolls. Not your kind of ugly trolls, but human-like trolls. Kanin people had certain physical characteristics: dark curly hair, brown or gray eyes, olive skin, shorter, and petite. However, being a half-Skojare--the quality that stood out--Bryn has fair skin, blond hair, and blue eyes, making her distinct from Kanin which made her determined to prove herself.
Imagine the usual stories from books and movies wherein a normal human being wasn't exactly normal like he/she believe they was, rather from a fantasy world. Nope, Bryn wasn't like those usual stories. She was the tracker, the one who informs the changelings that they are actually one and sends them back to their real world. I think this piece of Bryn makes the overall cooler and interesting. Despite of me not being a fan of taking a human baby, leaving a Kanin baby in its place, and dropping the human baby at an orphanage. It may be only a fiction but, WHAT??
Frostfire had a really good world-building, though its people sounds suspicious most of the time. I'm not much fan of them, either. I was expecting a high-fantasy, action-packed, and heart-pounding novel, but sadly, it didn't turn out to be that way. This book might be set in a fantasy world, but it feels more like a normal world. Or, normal people living in a fantasy world. I was hoping more from them. Bryn was a good character, fierce and determined and I like her. My impression on her only decreases a notch every time she talks/thinks about a guy. I don't even know what to make of the romance. It has a sizzle of chemistry, though, and I like that they didn't rushed.
Frostfire was likable and entertaining read. It has a potential and I hope that it did reached its top and surpassed my expectations. Trylle trilogy fans would be thrilled about Amanda Hocking's new series but if you haven't read it (or anything from the author) like me, you'd still enjoy this one.
*Thanks to Macmillan International for providing a review copy in exchange of an honest review!
Rating: