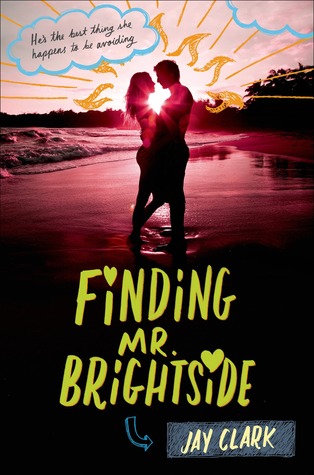 Genre: YA, contemporary, romance
Published March 24th 2015 by Henry Holt and Co. (BYR)
Source: Publisher via Edelweiss
Purchase: Amazon
* Barnes and Noble * Book Depository
Blurb (Goodreads):
Abram and Juliette know each other. They've lived down the street from each other their whole lives. But they don't really know each other—at least, not until Juliette's mom and Abram's dad have a torrid affair that culminates in a deadly car crash. Sharing the same subdivision is uncomfortable, to say the least. They don't speak.
Fast-forward to the neighborhood pharmacy, a few months later. Abram decides to say hello. Then he decides to invite her to Taco Bell. To her surprise as well as his, she agrees. And the real love story begins.
My Thoughts:
*This review is based on advanced reading ecopy. There might be some changes with the finished copy.
Okay, so I admit that I've been blinded by that sweet and cute cover but don't think of me as shallow already--I did read the blurb and been immensely curious and interested. Though this book interest me that much, I don't have any expectations from it but what I just read was something I did not expect. (Yes, there's actually a difference.)
Finding Mr. Brightside has a tough topic/subject. Abram liked Juliette for quite a long time but here's the deal: Abram's dad and Juliette's mom had an affair. An affair which eventually led them into an accident that killed them. If you would ask me, I could not think of a worse thing that could happen--to find out that your mom/dad had an affair or to lose them--or worst--both. So I understand from where Abram and Juliette was coming from. I understand how broken and messed their lives are after. What's more messed up (and add this: weird)? Is that they actually like each other. I'm like: Awwwkward.
The storytelling was a mixture of heavy and light--heavy topic, light with some cute and funny moments. The characters have something heavy to deal with
but the growing romance and caring between them seems to make the atmosphere more lighter. That was one of the things I did not expect. I saw this book as all the way cute and romantic and light, and it was, minus the 'all the way'. The story and the storytelling itself was different as well compared to other YA reads. And like this book, it was a mixture--of good and bad. The lack of excitement while reading this book bothered me. It wasn't bad but there are times that I felt flat.
Finding Mr. Brightside has complex story and characters. It's about grief, family, love, moving on, honesty, and doing what your heart wants not what your situation says. I liked how Abram and Juliette cared about each other, how they respect their spaces, and some character improvements as the story goes by. Although I wasn't completely amazed by this book and sometimes I felt dull, this is worth the read. Maybe the entirety didn't worked out for me but it could be for you, since I have many Goodreads friends who loved it.
*Thank you so much Henry Holt and Co. for the review ecopy in exchange of an honest review!
Rating: