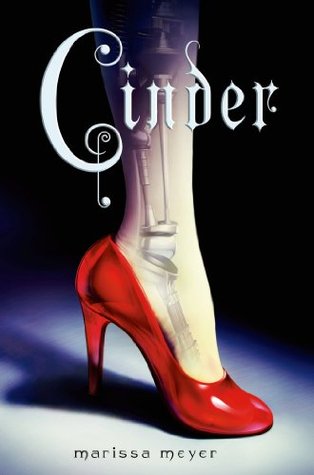 Series: Lunar Chronicles #1
Genre: YA, dystopian, sci-fi, fantasy
Editions available: Hardcover, paperback, Kindle, ebook,
audio CD, international, large print
Publisher: Feiwel & Friends
Source: Borrowed from a non-blogger friend
(oh, how I wish I have my OWN copy :( )
Buy:
Amazon
* Barnes & Noble
* Book Depository *Indiebound * iTunes (audiobook / physical book)
Rating:
Summary (Goodreads):
Humans and androids crowd the raucous streets of New Beijing. A deadly plague ravages the population. From space, the ruthless lunar people watch, waiting to make their move. No one knows that Earth's fate hinges on one girl. . . .
Cinder, a gifted mechanic, is a cyborg. She's a second-class citizen with a mysterious past, reviled by her stepmother and blamed for her stepsister's illness. But when her life becomes intertwined with the handsome Prince Kai's, she suddenly finds herself at the center of an intergalactic struggle, and a forbidden attraction. Caught between duty and freedom, loyalty and betrayal, she must uncover secrets about her past in order to protect her world's future.
My Thoughts:
Cinderella. Re-told Cinderella with dytopian-sci-fi twist. I HAVE TO READ THIS.
Cyborg Cinderella. Not what I expected. Scared for the outcome. NO.
Read reviews from Goodreads and recommended by a book blogger. NOTHING CAN STOP ME FROM READING IT NOW.
I have to be honest, I've been scared for this book because Marissa Meyer turned Cinderella (my all-time fave fairytale) into a cyborg. I don't know what or how will be the turn of events and over-all outcome of the book, so I had second thoughts in reading this.
But then a book blogger recommended me this when I asked her for book for 2012, sci-fi. I gave it a try and read it. And I TOTALLY LOVED IT.
I learned to love Cinder being a cyborg. I love the story, and even if Cinder doesn't really have a fairy godmother here and she doesn't looked a princess at all when she came into the ball, Marissa Meyer made it all special. I love the combination of dystopian, sci-fi, fantasy, with a little thriller and mystery on it and the romance.
The book just proves that even though something or someone is not perfect, they are the ones that are most appreciated, loved and real. Because sometimes, perfect is not real; it's scary. I loved every single detail on this book, and so far, I didn't see any flaws or negative about this. I'm craving for the next book, Scarlet (which who doesn't have a cover yet, will feature Cinder and Little Red Riding Hood that will take place in France, and will be released--oh, no. So far!--in 5th of February 2013!). I also found out in Goodreads that Lunar Chronicles will be having four books (including Cinder)! I'm so excited for all the books though each will be released not until after a year.
Edited 2/17/15: Check out my review of Scarlet (book 2), Cress (book 3), and Fairest (book 0.5)!
Book cover comment/s:
First look--wide-eyed. I LOVED IT AS MUCH AS I LOVE THE BOOK! I even used it one time for Facebook display photo. :D
Recommendations:
For all fairytale and Cinderella lovers. Who's not scared to try a cyborg Cinderella. Sci-fi, fantasy readers. Highly recommended (especially for preferred genres: YA, sci-fi)!
And because I love this book (and the cover!) so much, I'm going to feature alternate covers. Mostly are international covers and I get them from Goodreads.
Aren't they all stunning?