Welcome to the day one of Feb Feels presents The Lunar Chronicles!
Check out the schedule here.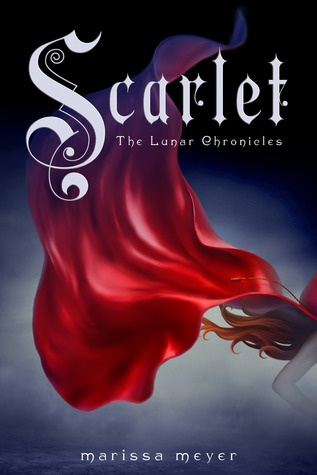 Series: The Lunar Chronicles #2
Genre: YA, sci-fi, fantasy, retelling, dystopian
Published February 5th 2013 by Feiwel and Friends
Purchase: Amazon
* Barnes and Noble * Book Depository
Blurb (Goodreads):
Cinder, the cyborg mechanic, returns in the second thrilling installment of the bestselling Lunar Chronicles. She's trying to break out of prison--even though if she succeeds, she'll be the Commonwealth's most wanted fugitive. Halfway around the world, Scarlet Benoit's grandmother is missing. It turns out there are many things Scarlet doesn't know about her grandmother or the grave danger she has lived in her whole life. When Scarlet encounters Wolf, a street fighter who may have information as to her grandmother's whereabouts, she is loath to trust this stranger, but is inexplicably drawn to him, and he to her. As Scarlet and Wolf unravel one mystery, they encounter another when they meet Cinder. Now, all of them must stay one step ahead of the vicious Lunar Queen Levana, who will do anything for the handsome Prince Kai to become her husband, her king, her prisoner.
My Thoughts:
Scarlet was the second installment of The Lunar Chronicles. A series with incredible twists, actions, and magnificent futuristic re-envisioning of some famous fairytales. On Cinder, the first book in the series, we met Cinder, the cyborg mechanic. Marissa Meyer's version of Cinderella. Mixed with sci-fi, fantasy, and even dystopian-ish. (Learn more about Cinder here.) Cinder's story continued in Scarlet, where a part of her past was revealed, and also the introduction of new characters who are based from Red Riding Hood, and their roles in Cinder's story. Like in Cinder, Scarlet (and the entire series) was told in third perspective. I preferred first person POV for Cinder, but now in Scarlet, I can appreciate the third POV since the story and the scenes are not only focused on Cinder, but also to the supporting and additional characters, who, also, made the book--the story--even more exceptional.
Cinder had a character improvement, which I greatly appreciate. She became a fighter and a stronger girl in this book. Sadly, her and Prince Kai's appearance lessened due to the new added story and characters. However, I'm glad that I've come to meet these new characters.
Despite several different scenes to cover--Cinder escaping, Kai handling all the chaos, plus the spotlight on the new characters like, Scarlet searching for her grandmother, and others--the author made sure that nothing will be left behind and still manage to rock this second installment.
The Lunar Chronicles
was like a companion series
and
a series at the same time. It picks up where the story left off but will also continue/introduce new characters.
I love the idea and the twists Marissa made on Red Riding Hood. The role of Scarlet and Wolf (not to mention, his true identity/origin), and the grandmother. It was brilliant. Wolf also was too cute to describe. (Plus, I might ruin some things you readers should find out for yourselves.) Even though I have read this book two years ago and just re-read it recently, I remember why this book became part of my Best of 2013. From page 1 'til the last, the mystery, excitement, and thrill, had made me breathless. I want to finish it but don't want to at the same time.
Scarlet was a fast-paced, heart-pounding sequel to Cinder. And just as I swore after reading Cinder years ago, I will read every book/novella published under this series--because I fell madly in love with it!
Check out my review of Cinder, which I wrote yeaaaaars ago, here. I might write a re-review one day. Let's see. Here's also my review for Cress (book 3) and Fairest (book 0.5).
Rating: