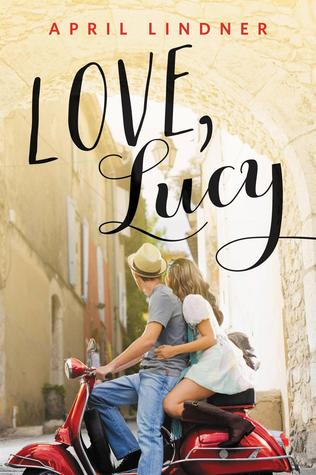 Genre: YA, contemporary, romance
Expected publication: January 27th 2015 by Poppy
Purchase: Amazon
* Barnes and Noble * Book Depository
Blurb (Goodreads):
While backpacking through Florence, Italy, during the summer before she heads off to college, Lucy Sommersworth finds herself falling in love with the culture, the architecture, the food...and Jesse Palladino, a handsome street musician. After a whirlwind romance, Lucy returns home, determined to move on from her "vacation flirtation." But just because summer is over doesn't mean Lucy and Jesse are over, too.
In this coming-of-age romance, April Lindner perfectly captures the highs and lows of a summer love that might just be meant to last beyond the season.
My Thoughts:
*This review is based on an advanced reading copy. There might be some changes with the finished copy.


Reading Love, Lucy was fun. It actually reminds me of Gayle Forman's Just One Day. It was a light read but my overall thoughts about it was split in two. So allow me to write this review wherein I point my likes and dislikes.


Here are the things I loved about Love, Lucy:
It's a travel novel--and most especially--in Florence, Italy. One of the places I'd love to visit. The handsome (and sweet) street musician. The happily ever after that made it feel like a modern fairytale story. The self discovery, and of course, that lovely cover and overall package.
Love, Lucy
is the kind of book I would grab even if I just saw it.
However, there are also things that I didn't liked:
There are scenes and dialogues that are cliche and predictable. I wasn't able to connect to the characters and feel the chemistry between Lucy and Jesse. The part on the near ending was annoying, which I couldn't tell you to prevent spoilers.
Love, Lucy is an okay book for me, still a worth the read. I was hoping for a more cuter or romantic story, but it didn't work for me. I'm glad for the HEA, though, like I said above.
*Thank you Dianne for letting us borrow your copy!
Rating: