Welcome to the fourth and last day of Feb Feels presents The Lunar Chronicles!
Today I'm sharing my thoughts on Marissa Meyer's latest addition to TLC series, Fairest.
Check out the complete Feb Feels schedule here.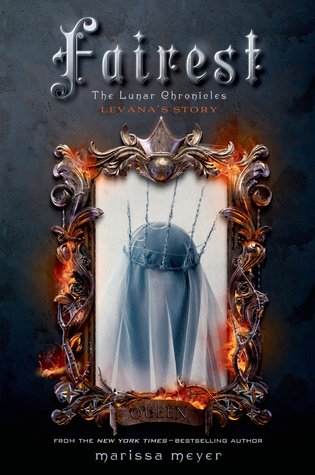 Series: The Lunar Chronicles #3.5
Genre:
YA,
sci-fi, fantasy, retelling, dystopian
Published January 27th 2015 by Feiwel & Friends
Source: Publisher
Purchase:
Amazon
* Barnes and Noble * Book Depository
Local purchase/order: Fully Booked * National Bookstore
Blurb (Goodreads):
In this stunning bridge book between Cress and Winter in the bestselling Lunar Chronicles, Queen Levana's story is finally told.
Mirror, mirror on the wall,
Who is the fairest of them all?
Fans of the Lunar Chronicles know Queen Levana as a ruler who uses her "glamour" to gain power. But long before she crossed paths with Cinder, Scarlet, and Cress, Levana lived a very different story – a story that has never been told . . . until now.
Marissa Meyer spins yet another unforgettable tale about love and war, deceit and death. This extraordinary book includes full-color art and an excerpt from Winter, the next book in the Lunar Chronicles series.
My Thoughts:
I was not ready to read Fairest. I'm not even sure if I wanted to read it. It's about Queen Levana. The character I hated the most in The Lunar Chronicles. But she was also the character I'm most curious about. Since I've met Levana on the first book, Cinder, she has made my eyes narrow and my blood boil. She's the evilest, the villain you could read on a fairytale. Only, Levana seems to have the upper hand on this story, thanks to her powerful brainwashing and glamour. I decided to read this book because I'm a huge fan of this series and would read any thing published under it and because I realize wanted to--surprise--know her more and see what she really looks like behind the veil.
I'm not a fan of villains for obvious reasons and this book was pure evil from the beginning til the end. The beginning showed an innocent Levana haunted by dreams caused by an earlier incident--the reason behind her glamouring--which was elaborated in the ending. The story continued and I get to know Levana and the Luna more. It was also amazing that through Levana's story I've also got to witness the past of the important characters and events in this series. Cinder and her mother, the true Queen, letumosis, the plague on Earth, the soldiers, Levana's own "love story",
Princess Winter,
and even Jacin Clay. You wouldn't imagine how 220 pages of the past would have a huge effect. It's amazing that Marissa Meyer got an idea about this book--Levana's story--in the midst of writing the last book in the series, Winter. She truly knows how to use her own magic.
Marissa Meyer gave more meaning on Queen Levana's character on this book. She wove a brilliant back story for Levana, though how sickening and more evil she became and sometimes I pity her. Despite of Levana's ugly nature, I saw this book written in brilliance, elegance, and cleverness. Rating this book will be a tough one but I will stick to the one the matters the most--the added world building, story, answers, and depth to the characters especially to the "fairest" queen, Levana.
*Thank you so much Macmillan International for the review copy in exchange of an honest review!
Rating: