She was dressed as Cruella de Ville on Halloween, while her child was dressed as dalmatian. Other cute stuff from the author of The Beautiful and the Cursed, Page Morgan!
Page Morgan
13 Random Facts
1.) I go crazy for textiles. I'm that person—the one who is always touching
everything in a store, especially fabrics. Bring me to a fabric store and I'm in heaven.
One of these days, I'll actually learn to sew.
(Sidenote: I like touching fabrics or textiles in the store or wherever, too. I just don't think I'm that crazy. Hehe)
2.) My husband has no idea that I have book boyfriends.
3.) I could watch Pirates of the Caribbean every single day and never get bored with
it. I think I must know every line by now, and Captain Jack Sparrow's one-liners still
crack me up.
4.) I wish the fourth Indiana Jones movie had never been made.
5.) My favorite book is Ethan Frome by Edith Wharton. It's tragic and bleak and full
of forbidden love. All of my favorite things.
6.) I prefer gnomes to fairies. Red hats!
7.) I can't wear heels. They're perilous. Ballet flats are my go-to shoes.
8.) I aspire to write Regency romance novels someday.
9.) I have more books on my shelves than I'll ever be able to read and this makes me
both sad and happy.
(Sidenote: *sniffs* I know the feeling.)
10.) Zombies totally stress me out.
11.) I go to fairs for the fried food and ONLY the fried food.
12.) I wish we all existed in a steampunk world.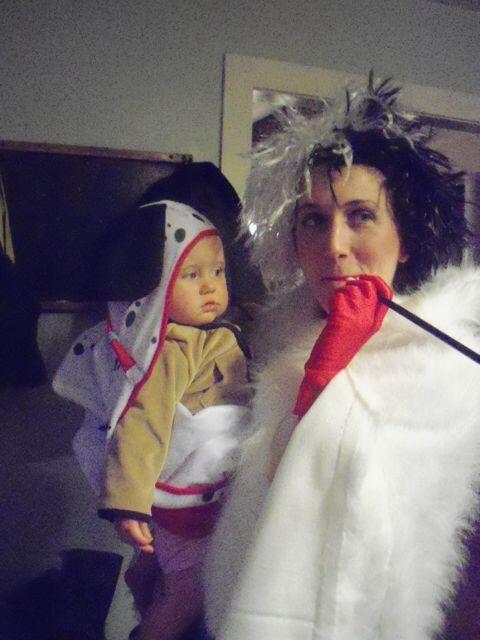 13.) My favorite Halloween costume was when I was Cruella de Ville and my baby
was a Dalmation puppy. Oh, come on…it was just a little evil.
(Sidenote: That's so cute! And Page shared their photo over Twitter--check it out!)
More about Page!
Page Morgan has been intrigued by les grotesques ever since she came across an old, black-and-white photograph of a Notre Dame gargoyle keeping watch over the city of Paris. The gargoyle mythologies she went on to research fed her imagination, and she became inspired to piece together her own story and mythology for these complex stone figures. Page lives in New England with her husband and their three children.
Check out Page's debut novel!
The Beautiful and the Cursed
(The Dispossessed #1)
by Page Morgan
Published May 14th 2013 by Delacorte Books for Young Readers
Blurb (Goodreads):
After a bizarre accident, Ingrid Waverly is forced to leave London with her mother and younger sister, Gabby, trading a world full of fancy dresses and society events for the unfamiliar city of Paris.
In Paris there are no grand balls or glittering parties, and, disturbingly, the house Ingrid's twin brother, Grayson, found for them isn't a house at all. It's an abandoned abbey, its roof lined with stone gargoyles that could almost be mistaken for living, breathing creatures.
And Grayson has gone missing.
No one seems to know of his whereabouts but Luc, a devastatingly handsome servant at their new home.
Ingrid is sure her twin isn't dead—she can feel it deep in her soul—but she knows he's in grave danger. It will be up to her and Gabby to navigate the twisted path to Grayson, a path that will lead Ingrid on a discovery of dark secrets and otherworldly truths. And she'll learn that once they are uncovered, they can never again be buried.
Yesterday: Nikki Godwin (American Girl on Saturn) and Jessica Young
Calling YA/NA/MG debut authors of 2014! Want to join us on this fun event? Fill out
this form
! Don't forget to spread the word with your debuting friends!
GIVEAWAY!
- SIGNED copy of The Beautiful and the Cursed
- open internationally
a Rafflecopter giveaway