To play along, just answer the following three (3) questions…

• What are you currently reading?
• What did you recently finish reading?
• What do you think you'll read next?
Currently Reading:
I have The Bees by Laline Paull on hold for weeks since I started reading other books. Now I've picked it up again and hopefully finish it.
Finished Reading:
I've also put down Otherbound by Corinne Duyvis weeks ago. I can't seem to understand/dive in the story but I hope it'll work this time.
Waiting On Wednesday is a weekly event, originally started by Jill at Breaking the Spine, that highlights upcoming book releases everyone is waiting on.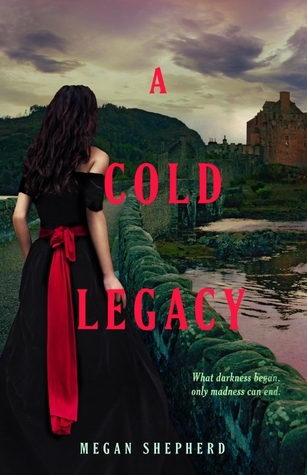 A Cold Legacy
(The Madman's Daughter #3)
Expected publication: January 27th 2015 by Balzer+Bray/HarperCollins
Blurb (Goodreads):
After killing the men who tried to steal her father's research, Juliet—along with Montgomery, Lucy, Balthazar, and a deathly ill Edward—has escaped to a remote estate on the Scottish moors. Owned by the enigmatic Elizabeth von Stein, the mansion is full of mysteries and unexplained oddities: dead bodies in the basement, secret passages, and fortune-tellers who seem to know Juliet's secrets. Though it appears to be a safe haven, Juliet fears new dangers may be present within the manor's own walls.
Then Juliet uncovers the truth about the manor's long history of scientific experimentation—and her own intended role in it—forcing her to determine where the line falls between right and wrong, life and death, magic and science, and promises and secrets. And she must decide if she'll follow her father's dark footsteps or her mother's tragic ones, or whether she'll make her own.
With inspiration from Mary Shelley's Frankenstein, this breathless conclusion to the Madman's Daughter trilogy is about the things we'll sacrifice to save those we love—even our own humanity.
I liked the first two books of The Madman's Daughter trilogy and I'm excited to find out how will all the craziness and creepiness end.
***
Last week was a crazy week due to typhoon Glenda and now we have typhoon Henry.
I hate it because the power line is in danger (it went out two days last week and another earlier)--it's affecting my review-posting! -__-
The only good thing about this is I can read longer without the internet temptation.
Any news from you? What good books are you reading lately/wishing to have? Share with me below!
P.S Don't forget to take care! (Whether your weather is sucky like ours or not.)