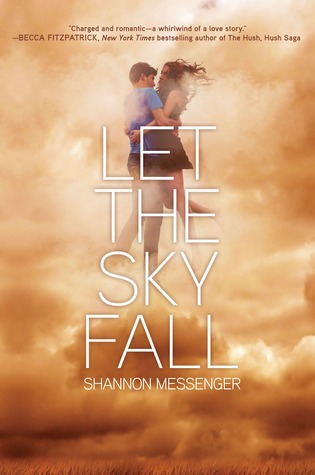 Genre: YA, urban fantasy, paranormal, romance
Published March 5th 2013 by Simon Pulse
Purchase: Amazon
* Barnes and Noble *
Book Depository
Blurb (Goodreads):
Vane Weston should have died in the category-five tornado that killed his parents. Instead, he woke up in a pile of rubble with no memories of his past - except one: a beautiful, dark-haired girl standing in the winds. She swept through his dreams ever since, and he clings to the hope that she's real.
Audra is real, but she isn't human. She's a sylph, an air elemental who can walk on the wind, translate its alluring songs, even twist it into a weapon. She's also a guardian - Vane's guardian - and has sworn an oath to protect him at all costs.
When a hasty mistake reveals their location to the enemy who murdered both their families, Audra has just days to help Vane unlock his memories. And as the storm winds gather, Audra and Vane start to realize that the greatest danger might not be the warriors coming to destroy them, but the forbidden romance growing between them.
My Thoughts:
I've been wanting to read this book since I heard about it. Winds as power? Yes, please! So now that I actually did--read it, I mean--I'm so glad that I wasn't disappointed. Hurrah!
Let the Sky Fall was told in two POVs: Vane and Audra (I approve with the names, they perfectly fit the characters. Loved it!). At first I was hesitant with this narration since the last book I read with two POVs would be much better if it wasn't. And yet Shannon Messenger brought me her first wait-til-you-read-this miracle. Vane is a not-so normal boy because of his tragic past involving a tornado--he doesn't even remember what happened that day when the tornado killed his parents and how did he survived it. Audra is a windwalker, but Vane didn't know that at first when he dreams about this beautiful girl. And when he finally met her, everything about Vane and his past unraveled and he's more than a "miracle boy" they say he is.
One of the first things I noticed was the beautiful writing. Shannon's writing matched the tone and theme of the book which is lyrical and haunting. Her words fly just like the wind, a wonderful feeling when you read it. The theme was refreshing since I haven't read a book about winds or any elemental. The cover fits the story perfectly and the plot was amazing too. There were right twists, emotions, and events that happened and yet readers have still something to look forward and get excited about in reading the sequel, Let the Storms Break. I, too, am excited.
The romance was something I'd love to hate but the dialogues, chemistry, and feels are irresistible so I end up loving it. I was searching for something more convincing story between these two but nevertheless, I adore their love story.
The action doesn't start until the near ending but instead of getting bored, I was pre-occupied with keeping myself still because of kilig. XD
When you see Let the Sky Fall you'd want to read it, especially with that gorgeous cover. At the same time, you'd be scared of the outcome--you don't want to be disappointed! But don't worry, Let the Sky Fall is something you'd definitely want to spend time reading. It will never disappoint you--it will wow you til you end up wanting more when you reached the last page. Trust me, I'm like that.
*Thank you so much Jassie for letting me borrow your copy!
Rating: