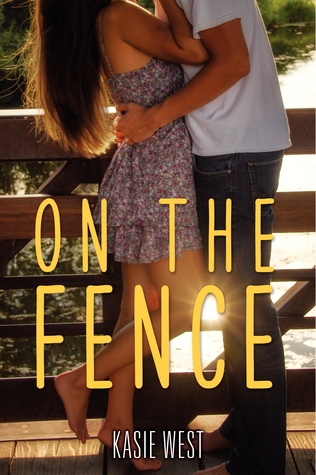 Genre: YA, contemporary, romance
Published July 1st 2014 by HarperTeen
Purchase: Amazon
*
Barnes and Noble
*
Book Depository
Blurb (Goodreads):
She's a tomboy. He's the boy next door…
Charlie Reynolds can outrun, outscore, and outwit every boy she knows. But when it comes to being a girl, Charlie doesn't know the first thing about anything. So when she starts working at a chichi boutique to pay off a speeding ticket, she finds herself in a strange new world. To cope with the stress of her new reality, Charlie takes to spending nights chatting with her neighbor Braden through the fence between their yards. As she grows to depend on their nightly Fence Chats, she realizes she's got a bigger problem than speeding tickets-she's falling for Braden. She knows what it means to go for the win, but if spilling her secret means losing him for good, the stakes just got too high.
Fun, original, and endearing, On the Fence is a romantic comedy about finding yourself and finding love where you least expect.
My Thoughts:
*This review is based on advanced reading copy. There might be some changes with finished copies.
It was a relief reading this book. I've been waiting for One the Fence since I first heard it and at the same time, I was craving for something romantic and refreshing and absolutely from one of my favorite authors. And dang, did Kasie West proved again how brilliant she is.
Charlie Reynolds...is a tomboy. She loves and plays sports, hang out with with her brothers and guy friends, and doesn't have an idea how to be a normal girl. Being a tomboy, Charlie isn't attached to guys that way, but as buddies/brothers and playmates, and she turned out to be the main character I surprisingly liked. I cannot relate to Charlie but I'm not detached either. I became more interested because she's different from other female characters I read and different from me as well. If she don't know how to be a normal girl, I on the other hand, don't know how to be normal around guys. Kasie West introduced me in a world that I never have, and it's refreshing and exciting. There were times after reading this book that I tried to imagine how my life would be if I were Charlie. And it's hard to imagine. :3
Another thing that I liked about this book was the friendship that turned into romance. I've always dreamt about having a best guy friend and falling in love with each other. I think that's the sweetest love story ever. You know each other very much that you won't pretend to be someone you're not on dates or getting-to-know phase. That it's okay to not wear make-up or fabulous outfits to impress him because he's seen and smelled the worst of you and still accept and love you for who you are. And On the Fence is the prefect portrayal of this love story. At the same time, it also had a family and personal story that I'm sure people could relate to.
Pivot Point, Split Second, and The Distance Between Us are the reasons why I fell in love with Kasie West's writing. Pivot Point was amazing enough for me to love her and the other books made me do a Philippine street team (@KasieWestPH) and support her future books. It was the day I started reading On the Fence and I'm so grateful I did it because OTF rocks. I loved it!
Like The Distance Between Us, On the Fence is a book with simple setting and events but the simplicity is the reason behind the awesome-ness. Simple things such as being on the fence is like a breeze in the night, calming yet it feels. I also loved that Caymen (from TDBU) had a cameo here and so are the other characters (either had a role or just mentioned). It brought second layer of feels to me. I felt pang when I read those pages. I love every inch of On the Fence and I would definitely recommend it to everyone who wants to experience a wonderful and romantic read.
*Thank you so much Megan and HarperCollins International for the review copy!
Rating: