Amazing. Amazing. AMAZING!
Thank YOU for droppin by today!
As promised yesterday, I will be featuring the first debut author of this year for my first blog event, Celebrating Debutantes.
Let us welcome the author of Incarnate...
Author Jodi Meadows
"Overall, the response to INCARNATE has been thoughtful and positive. The idea that so many people can enjoy a story I wrote for fun is truly incredible and humbling. So many people have written to me about how they identified with Ana, how her struggles reflected their struggles, and how her story helped them or gave them hope. I think that's one of the best responses an author can get, and I am sincerely thankful for everyone who's read INCARNATE, and those who will read it in the future."
- JODI MEADOWS, debut author of 2012
How was the feeling of being a published author, at last?

I wish I could tell you that it's all glamour all the time, and all my problems were solved over night. But the truth is, it feels a lot like it felt being an unpublished author, just with an extra dose of stress and worry and anxiety, and a tiny bit of occasional glamour. I wouldn't trade it, though. Knowing my book is out there, that people can buy it in their local stores, is pretty amazing.
What is/are the best thing/s that happened after your book was published?
People read it. Lots of them seem to enjoy it, too. That is just so incredible.
What do you think you're up to now if you're not writing?
When I'm not writing, I usually play with read, play with ferrets, watch TV and knit or spin (multitasking!), or hang out with family.
Did you plan, all along, to write/publish a book with the genre of what you got right now?
Fantasy is my first love, and I've always wanted to write that. But before INCARNATE, I'd written sixteen other manuscripts, many which were aimed at adults. It took me a long time to realize my natural voice was a YA voice, and that all my stories were actually YA stories in disguise.
Are you interested in writing with different genre or audience?
I think all my stories will include some measure of magic, even if it's not set in a fantasy world. I've written about twenty-one complete manuscripts (and many other starts of manuscripts) and so far they all have magic.
Do you read reviews about your book?
Noooo. Well. Sometimes. I don't go looking for them. That way lies madness and hair-pulling. But lots of times, bloggers will include me in tweets when they link their reviews on Twitter. Typically those are positive reviews and safe to look at. It may sound shallow that I only want to know positive things, but the truth is that unfavorable reviews can make me doubt myself -- even though I know they shouldn't -- and frankly I have enough self-doubt all of my very own.
What is your (best/fun/unforgettable) moment with a fan?
Over Twitter, before Incarnate came out, a reader was so scandalized by the fact that I didn't own a wooden spoon, she brought one to me at a signing when I was in her area. Now I have a wooden spoon. I use it to move the blinds in my office without having to get up.

(Sidenote: This one made me smile. And okay, giggle. :)
Who is the character on your book who has the most response from your readers?
Sam and Ana probably have equal response. Lots of people (unfortunately) really identify with Ana's sense of not belonging, her abusive history, and her longing to prove herself worthwhile. Sam's responses typically center around the word "swoon," which is yay.
Which stresses you more: writing/finishing your book, looking for a publisher/getting your book published, or seeing negative feedback from the readers?
Everything is stressful in its own way, though actually doing the writing is probably the least stressful.

But looking for an agent and publisher was super stressful and it felt like the end of the world if it didn't happen. Seeing negative reviews (by accident, since I don't go looking) sometimes feels like the end of the world, too, even though I know it isn't.
Was there any book/s from other debut author of 2012 that you loved?
There were lots of books from debut authors that I loved! We'd be here all day if I tried to name every single one of them, but a few special ones: HEMLOCK by Kathleen Peacock, DEFIANCE by C.J. Redwine, and EVERNEATH by Brodi Ashton.

*****
JODI MEADOWS lives and writes in the Shenandoah Valley, Virginia, with her husband, a Kippy (a cat), and an alarming number of ferrets. She is a confessed book addict, and has wanted to be a writer ever since she decided against becoming an astronaut.
'My hobbies, aside from spending all my money on books and Kippy/ferret treats, revolve around yarn. I love crocheting, knitting, and spinning. In addition to several handspindles, I share my living room with a spinning wheel named Bob.
Every Sunday I blog about spinning and other yarn things here. Ferret pictures can be found here.'
Check out Incarnate, Jodi's debut book!
Incarnate
(Newsoul #1)
by Jodi Meadows
Date published: January 31, 2012
by Katherine Tegen Books
Summary (Goodreads):
New soul
Ana is new. For thousands of years in Range, a million souls have been reincarnated over and over, keeping their memories and experiences from previous lifetimes. When Ana was born, another soul vanished, and no one knows why.
No soul
Even Ana's own mother thinks she's a nosoul, an omen of worse things to come, and has kept her away from society. To escape her seclusion and learn whether she'll be reincarnated, Ana travels to the city of Heart, but its citizens are afraid of what her presence means. When dragons and sylph attack the city, is Ana to blame?
Heart
Sam believes Ana's new soul is good and worthwhile. When he stands up for her, their relationship blooms. But can he love someone who may live only once, and will Ana's enemies—human and creature alike—let them be together? Ana needs to uncover the mistake that gave her someone else's life, but will her quest threaten the peace of Heart and destroy the promise of reincarnation for all?
Jodi Meadows expertly weaves soul-deep romance, fantasy, and danger into an extraordinary tale of new life.
"INCARNATE has an eerie and intriguing premise and I am looking forward to seeing where Jodi Meadows takes it next."
- Robin McKinley, bestselling and Newbery Award winning author of THE HERO AND THE CROWN, SPINDLE'S END, DRAGONHAVEN, and PEGASUS
"Lyrical and thought-provoking, INCARNATE is the kind of book that stays with you long after you've turned the last page. I loved it!"
- Rachel Hawkins, New York Times Bestselling author of HEX HALL and DEMONGLASS
"One word: Breathtaking. More words: Heart-melting. Soul-feeding. Mind-blowing. INCARNATE captured all of me and won't let go."
- Jeri Smith-Ready, award-winning author of the SHADE trilogy
*****
Buy INCARNATE now!
From Barnes & Noble: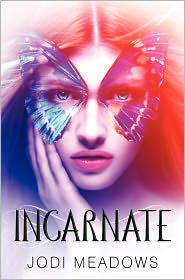 The second book to the Newsoul trilogy:
Asunder
Expected publication: January 29, 2013
Summary (Goodreads):
DARKSOULS
Ana has always been the only one. Asunder. Apart. But after Templedark, when many residents of Heart were lost forever, some hold Ana responsible for the darksouls–and the newsouls who may be born in their place.
SHADOWS
Many are afraid of Ana's presence, a constant reminder of unstoppable changes and the unknown. When sylph begin behaving differently toward her and people turn violent, Ana must learn to stand up not only for herself but for those who cannot stand up for themselves.
LOVE
Ana was told that nosouls can't love. But newsouls? More than anything, she wants to live and love as an equal among the citizens of Heart, but even when Sam professes his deepest feelings, it seems impossible to overcome a lifetime of rejection.
In this second book in the Incarnate trilogy, Ana discovers the truth about reincarnation and will have to find a way to embrace love and make her young life meaningful. Once again, Jodi Meadows explores the extraordinary beauty and shadowed depths of the soul in a story equal parts epic romance and captivating fantasy.
Pre-order ASUNDER now!
From Barnes & Noble
.
GIVEAWAY!
(Please READ these important details before jumping to the Rafflecopter! :)
- win a copy Incarnate OR Asunder (to be pre-ordered) PLUS a SIGNED bookplate
- open INTERNATIONALLY!
- one winner will be picked via Rafflecopter entries.
- the winning entry will be CHECKED. So please be honest in entering each one of them--you never know, it might be the winning entry.
- if the winner has not responded within 48 hours, another winner will be picked.
- all personal details will be kept privately and deleted after.
- Jodi and I are not responsible for any lost or damaged packages.
- ends November 30th
* I would like to THANK Jodi for participating in my first blog event. I really appreciate the time and effort you've given. Thank you so much for donating your book and a signed bookplate for the giveaway.
I wish you all the best in your writing career and we hope to see more books from you!
Also, thank YOU for droppin by! I hope you're enjoying my first ever blog event and please stay tuned for more debut authors to stop by for an interview and to give away!
To learn more about Celebrating Debutantes, you can check out my intro post here.
Share your thoughts with me on the comments below or if there's anything you wanted to ask me or Jodi. Hugs to ALL of you!
a Rafflecopter giveaway