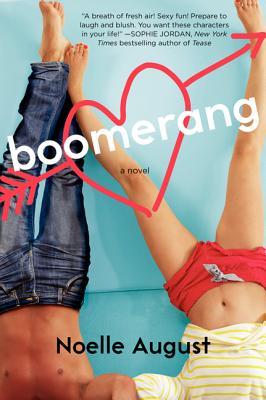 Genre: NA, contemporary, romance
Published July 8th 2014 by William Morrow Paperbacks
Purchase: Amazon
* Barnes and Noble * Book Depository
Blurb (Goodreads):
The first book in a sensational New Adult trilogy from Noelle August
Welcome to Boomerang.com, the dating site for the millennial gen with its no-fuss, no-commitments matchups, and where work is steamier than any random hook-up
Mia Galliano is an aspiring filmmaker. Ethan Vance has just played his last game as a collegiate soccer star. They're sharp, hungry for success, and they share a secret.
Last night, Ethan and Mia met at a bar, and, well . . . one thing led to another, which led to them waking up the next morning—together. Things turned awkward in a hurry when they found themselves sharing a post hookup taxi . . . to the same place: Boomerang headquarters.
What began as a powerful connection between them is treated to a cold shower courtesy of two major complications. First, Boomerang has a strict policy against co-worker dating. And second, they're now competitors for only one job at the end of summer.
As their internships come to an end, will they manage to keep their eyes on the future and their hands off each other, or will the pull of attraction put them right back where they started?
My Thoughts:
Boomerang started out as sexy and I thought it would be like that and only that all throughout the book. The next pages contains awkward and funny scenes and my impression died and I liked it instantly. Boomerang has something that sets apart from other ordinary NA novels. One, because there's a dating site
(but not exactly about)
where unexpected things happened to two strangers and a follow-up of crazy events. Two, interesting characters.
Mia
Galliano and Ethan Vance woke up one morning together and despite the attraction and connection, they've been too drunk to remember what happen the night before. Willing to move on their lives and make sure to not be late on the first day of internship, they weren't prepared on what they later found out. They are now
competing for the job they want so much. And a company rule: no co-worker dating.
I adore Mia and Ethan. They're both passionate and dedicated, with unique personality--they're easy to like. I also love how Mia is attached to her grandmother and her passion in film-making, and Ethan being a soccer coach to 9-year olds with passion both on the sport and the children. On the outside, Boomerang looks like a fun, witty, and cute read. Fluffy all the way. But I was surprised and pleased to find out that it is more than that. The characters are greatly structured: the connection and chemistry is definitely swoon-worthy, backgrounds you can't help but adore, the story and the supporting characters are really good too. And most of all, I'm happy that Mia and Ethan developed something deeper than physical attraction. They've grown to know each other and like the little or big things about them. It makes the love story more sweet and swoony.
I'm so glad that this is a companion series! I'm so excited to find out that the next will be about Alex, Mia and Ethan's boss, a.k.a the owner of Boomerang, a millionaire at the age of 22. I am quite curious about him when I was reading this novel. And also the scary Cookie. Although it will be also about Alison (which role in Boomerang I won't reveal. Yet.) Pfft. I don't like her in Boomerang. Let's see if I would set that aside just for Adam's story in Rebound.
I liked Boomerang and that doesn't surprise me because one of the two authors behind this novel is Veronica Rossi, author of best-selling Under The Never Sky series (Noelle August is a pen name, btw, for Veronica Rossi and Lorin Oberweger). What surprises me is the difference of genre. But it's still good, no surprise there. Funny, swoony, and overall lovely! Anyway, if you're a fan or haven't even read her series, and you feel like you must read Boomerang, then read it. You wouldn't be disappointed!
*Thanks to Fay of Bibliophile Soprano for the giveaway!
Rating: