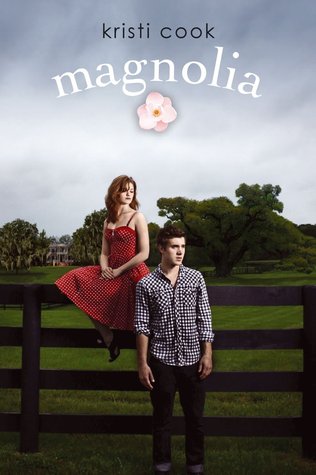 Genre: YA, contemporary, romance
Published August 5th 2014 by Simon & Schuster
Purchase: Amazon
* Barnes and Noble * Book Depository
Blurb (Goodreads):
In Magnolia Branch, Mississippi, the Cafferty and Marsden families are southern royalty. Neighbors since the Civil War, the families have shared vacations, holidays, backyard barbecues, and the overwhelming desire to unite their two clans by marriage. So when a baby boy and girl were born to the families at the same time, the perfect opportunity seemed to have finally arrived.
Jemma Cafferty and Ryder Marsden have no intention of giving in to their parents' wishes. They're only seventeen, for goodness' sake, not to mention that one little problem: They hate each other! Jemma can't stand Ryder's nauseating golden-boy persona, and Ryder would like nothing better than to pretend stubborn Jemma doesn't exist.
But when a violent storm ravages Magnolia Branch, it unearths Jemma's and Ryder's true feelings for each other as the two discover that the line between love and hate may be thin enough to risk crossing over.
My Thoughts:
*This review is based on electronic advanced reading copy. There might be some changes with the finished copy.
I'm supposed to review Magnolia on a blog tour back in August. Unfortunately, that was the time I think my laptop went down and I wasn't lucky enough to save the ecopy before it did until my tour stop came nearer and I have to do feature post instead and review later--that was only a simplified version of the crazy happenings then. And then I started my review classes and there's priority books I needed to review first so I wasn't able to read this ASAP. I can't believe I've waited this long to read this book!
Their story, as Jemma Cafferty described, was like Romeo and Juliet...only you flip that inside out. Both Jemma and Ryder Marsden's families are intertwined, devoted to each other, after the history of heroism/friendship their ancestors made. Born six weeks apart, Jemma and Ryder's mothers already have their plans and dreams about their wedding. Not that they were betrothed--but it seems worst that that. Their mothers always push them together even though they clearly despise each other.
From the beginning I knew I'd love this book.
I like the summary, idea, and the tone of the narrator (Jemma's POV). It automatically drew me in and savor each chapter. I like the background of their families and especially the love-hate relationship of Jemma and Ryder. It's one of my favorite things to read in a book!
Magnolia is so cute and romantic and gosh the FEELS! Swoon to the highest level! There's nothing you could hate in this book (well, except for the storm. But then again, given what happened..I don't entirely hate it.). It's a light read, funny, the characters are easy to like, and the ending is quite genius (and funny). I also like the Southern style and I guess almost everything in this book.
I hope Kristi Cook could write more of Jemma and Ryder or from their world. :D And gosh, can I have Ryder for myself? He's too gorgeous to be a fictional character!
I love this book and would highly recommend it!
P.S I'm still fangirling while writing this review!!
*Thank you Simon and Schuster for the ecopy in exchange of an honest review!
Rating: